The Mets have recalled Ike Davis from Triple-A and he will rejoin the team in Milwaukee as the Mets take on the Brewers in a three-game set. Now the question is: How long of a leash will the Mets give Davis this go-round? Earlier Terry Collins said that when Davis came back that he would not be platooned. The Brewers are slated to throw three righty starters, so it seems that even if platooning was on the table, that Davis would play at least the first three games.
Davis received 207 PA before he was mercifully sent out of town the first time. But that is by far the longest leash Collins has shown anyone this year. Actually, there's been absolutely no pattern in how long the manager will stay with a certain player. This is a situation that virtually begs to be treated on an individual, case-by-case basis. Yet it's hard not to wonder why some players get extended shots while others get virtually none at all.
Collin Cowgill was dubbed the club's starting center fielder, a position that lasted a week. He was kept around for three additional weeks of sporadic playing time and sent down after 52 PA. Cowgill was recalled and given almost no playing time and released immediately following a two-hit game. Jordany Valdespin was given a one-week audition as a starter and then buried on the end of the bench. Rick Ankiel was given 71 PA and was DFAd after posting a .189 OPS over his final 38 trips to the plate.
Meanwhile, Juan Lagares has 135 PA and counting despite a .579 OPS. Ruben Tejada had 204 PA and was still in the everyday lineup – with no backup shortstop on the major league roster – despite a .529 OPS. He might still be playing full-time if he hadn't gotten injured. And of course there is Davis himself, who received 10 weeks before being sent to the minors.
It is reasonable to argue that Davis deserved an extended leash due to what he produced in 2012 after a similar poor start. But is there any reason to apply that argument two times in the same season? Should the Mets stick with him if, after his first week back, he posts a sub-.600 OPS? Is that fair to Josh Satin – along with Cowgill and Valdespin?
Of course, Davis could make this speculation pointless by hitting right out of the chute. That would be nice.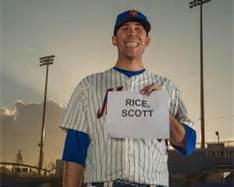 A TALE OF TWO RELIEVERS – The Mets have two reliever struggling recently and both gave up runs in extra innings of Thursday's loss to the Diamondbacks. The Mets made a roster move and released one of them to make room for the return of Greg Burke. Here are their stats since June 1st. Which one would you have released?
Player A – 14.2 IP, 6.75 ERA, 2.318 WHIP
Player B – 7.1 IP, 9.82 ERA, 3.273 WHIP
Neither one has been pitching well recently but if you were Player B – Scott Rice – wouldn't you think you could get away with anything at this point, since he was kept while Player A – Brandon Lyon – was cut? If I was Rice, I would act like my dad ran the team and there were no consequences for any of my actions on and off the field. Because essentially, that's what is happening here. The front office is giving Collins two lefty relievers all season and Rice has a free pass to stink up the joint until another lefty like Byrdak, Feliciano or Leathersich is ready to take his place. And that stinks just as much as some players getting 200 PA to be lousy while others get fewer than 30.
THE REMARKABLE WRIGHT – Last year when David Wright got off to such a great start in April and May, it was big news. Yet here he is on the morning of July 5th with a .921 OPS and seemingly no one is batting an eye. Everyone is more concerned with running a campaign to get him elected to the All-Star game than in celebrating his fantastic hitting. Coming on the heels of last year's disappointing finish, what Wright is doing so far in 2013 deserves recognition, both of the All-Star game start and regular variety. So, a tip of the cap for Captain America and hopes that he can avoid last year's second-half slide.
GEE CONTINUES RECENT STRONG PITCHING – Coming into the season Dillon Gee was a question mark given how he was coming off a season-ending injury in 2012. In his first 10 starts, Gee did not resemble the guy who pitched so well last year before coming down with the blood clot in his shoulder. He had a 6.34 ERA and opponents had a .909 OPS batting against him. But in his last seven starts, Gee has a 2.47 ERA in 47.1 IP and has held opponents to a .684 OPS, all with a normal .295 BABIP. He has six Quality Starts in this stretch. Once under consideration for a demotion out of the rotation, Gee has turned his season around and looks to have cemented a spot for the rest of this season, if not longer.
CHECKING IN ON A PRESEASON PREDICTION – Everyone loves preseason predictions for how a player will do in the upcoming season. If a prediction forecasted a .216/.258/.289 line with an 18.9 K% and the player delivered a .223/.241/.338 line with a 26.7 K% – what would you think? The power was underestimated but so were the strikeouts. But the AVG and OBP were pretty good projections. In this case, the projection was the MLE equivalent of Juan Lagares' 2012 season in Double-A.
THE METS AND SOLO HOMERS – Of the last 25 HR that the Mets have hit, 21 have come with the bases empty, including all six hit in the series against the Diamondbacks. For the season, the Mets have this breakdown of homers, with overall percentage in parentheses:
Solo: 53 (65%)
2-run: 20 (25%)
3-run: 5 (6%)
Slam: 3 (4%)
Here are the numbers for the National League:
Solo: 1544 (61%)
2-run: 709 (28%)
3-run: 242 (10%)
Slam: 52 (2%)
The percentages for the NL do not add up to 100 because of rounding. Regardless, we see what the Mets have done this year is right in line with the league average and the recent plethora of solo shots is a marked contrast to what the team did earlier in the season. Still, it feels like the baseball gods owe us a few three-run blasts.