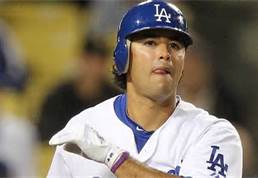 Rumors continue to circulate that the Mets are in the market for a power-hitting outfielder. Giancarlo Stanton – wow, wouldn't that be great? Carlos Gonzalez – now, that would be exciting! Andre Ethier – wait, wait… what?
One of these things is not like the other.
In 2009, Ethier hit 31 HR, drove in 106 runs and had an .869 OPS. But, Toto, I don't think we're in 2009 anymore. In the three full seasons since then, Ethier has averaged 18 HR and 78 RBIs a year and has averaged an .820 OPS. This year he is on pace for 9 HR and 48 RBIs to go along with a .728 OPS. And that's in 157 games and 539 ABs.
Ethier is a lefty and hold on to your hats, but he struggles against lefties. LHP have limited him to a .609 OPS this year. He's also 31 years old and in the middle of a multi-year contract which runs through 2017 with a vesting option for 2018 when he'll be 36.
So, he peaked four years ago, he's having for him an absolutely terrible year, he's owed at least $71.5 million and he needs to be platooned against lefties. What exactly is the selling point here? How come Ethier's name keeps getting tossed out there like he is some valuable property to acquire?
To be fair, each story mentioning him as a potential trade target talks about the Dodgers picking up a chunk of his salary. But the implication is that the Mets would have to trade something worthwhile to get Ethier. And how much should the Mets give up to get what is essentially at this point in time a league-average player?
If Ethier could play CF for 140 games a season, it might still be a worthwhile proposition. With Matt Kemp around, Ethier is not the Dodgers' first choice to play center. But Ethier has still logged 29 games there in 2013 with Kemp being slowed by various injuries. The advanced defensive metrics think he's done a decent job in this small sample. In 258 innings in CF, he has a +1 DRS and a 1.9 UZR.
However, overall the systems think he's a negative defensively. Lifetime he has a (-12) DRS and a (-27.3) UZR in 8,759.2 innings. On a 150-game basis, UZR sees him as being worth (-4.4) runs.
For the Mets to acquire Ethier, they are banking on him to rebound offensively, be able to hack it in center field and not get worse as he enters what is generally considered the decline phase of his career. That's an awful lot of wish-casting, regardless of how much money the Dodgers kick into the deal. Honestly, why would the Mets give anything more than a C-level minor league prospect for that privilege?
If anything, it might make more sense for the Mets to inquire about another Dodger outfielder – Carl Crawford. He's the same age as Ethier, has an even worse contract and comes with injury questions. But those things might make the Dodgers pick up more of his remaining salary. Crawford would be a left fielder and it would be doubtful that he could provide much more than a dozen homers.
But when healthy, Crawford is still an above-average ballplayer.
He's a leadoff hitter, a threat on the basepaths and a legitimately good defensive player. He's everything Eric Young Jr. has given the Mets and more. It makes no sense to acquire Crawford if you think that Young's Mets production of .308/.380/.402 with a .371 BABIP is even semi-repeatable. But if you're dubious of a guy with a lifetime .684 OPS playing a key role on your team, it would be at least reasonable to kick the tires on Crawford.
It certainly would be more reasonable than giving up anything worthwhile for Ethier, which seems to be just as big of a mistake as thinking that he belongs in the same conversation with power hitters like Stanton and Gonzalez.