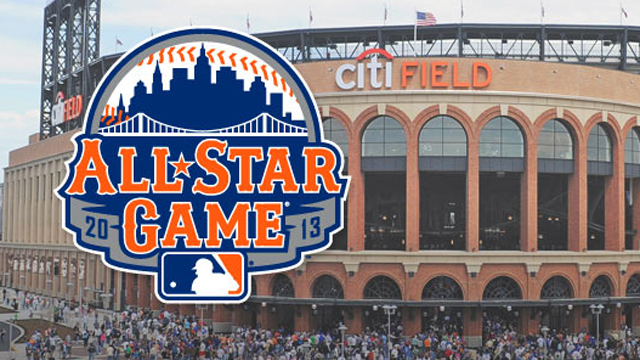 You gotta admit: when the Mets throw a big party, they do a pretty decent job.
The 84th Major League All-Star game is tonight. You may have heard. If you're local to Citi Field, the build-up and giddy excitement have been inescapable. From the minute 35 All-Star Apples were sprinkled around town, the anticipation surrounding the game and the Mets' home ballpark is like nothing we've seen since the 2006 postseason. After all, it's not every day the whole of MLB and the national media focus on our little hamlet at the western tip of Long Island. Toss in the ultimately successful campaign to have Matt Harvey start the game, the initial omission of Pedro Alvarez from the NL Home Run Derby team – a "slight" which turned HRD team captain David Wright into public enemy #1 on the streets of Pittsburgh – and the not-too-shabby play of the Mets themselves in recent weeks and you have the makings of a tasty big city stew. The Citi Field bigwigs have trotted out some new food items and made sure the place is sparkling for all the out-of-towners. It was fantastic and unsettling to see the overflowing crowds in the seats for the Home Run Derby. It was a near-universal response among fan and non-fan alike: "So that's what Citi Field looks like when it's full." The optimistic mind can't help but jump ahead a few – hopefully a very few – years to what the place will be like once it does host a postseason series or three.
During last night's telecast of the HRD, Mike Piazza made a guest appearance in the ESPN booth. In between bantering with hosts Chris Berman and Nomar Garciaparra, Piazza talked about how great the atmosphere is in New York, especially on the National League side. "All respect to the Yankees, of course," he said, "but it's different over here. During the '86 championship run and with our teams – we went to the 2000 World Series and had a great team in '99 – the atmosphere was more 'blue collar' and Shea Stadium had a really special vibe. We're trying to get that back again." Aside from appreciating the "we" that Piazza dropped – indicative that whatever rift had developed between Piazza and the team is healing: his pending induction into the team's Hall of Fame certainly helped on that score – your intrepid columnist heard his remarks as an echo of what the feeling was like during the heady days of '86, '00, '06. We're getting a glimpse of that this week, however briefly. If this is truly a team "on the come," as they say around the racetrack, that feeling will last that much longer.
As always, here's hoping.
Follow me on Twitter @CharlieHangley