1964 TOPPS COIN RON HUNT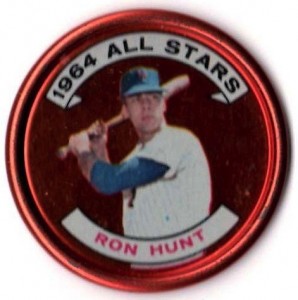 Here's to Ron Hunt, the first Mets player to start an All-Star game.
Hunt manned 2nd base for the 1964 NL All Stars, batting eighth in a lineup that included Roberto Clemente, Billy Williams, Willie Mays, and Orlando Cepeda.
The Mets were hosting the game in a brand-new Shea Stadium (was there ever really such a thing?) that year, so it might be tempting to claim that he was a sentimental choice. But make no mistake– Hunt was legit.
He was runner-up to Pete Rose in the 1963 Rookie-of-the-Year voting, and he was hitting a solid .311 at the break in 1964.
Hunt would go on to have three at bats in the 1964 All-Star game.
He led off the bottom of the third with a single off future Met Dean Chance, and moved to second on a groundout by pinch hitter Willie Stargell. He was stranded there when Chance induced two more groundouts, from Clemente and Dick Groat.
Hunt hit again in the bottom of the fifth, and rolled out to the pitcher, Camilo Pascual. His final plate appearance came against Dick Radatz in the bottom of the seventh, and resulted in a strikeout.
These All-Star coins were featured in late-series 1964 Topps wax and cello packs. They differ in design from the regular coins that appeared in early-series 1964 packs, and actually look more like kissing cousins to the Old London coins that were inserted in packages of Cheez Doodles/Dipsy Doodles in 1965.