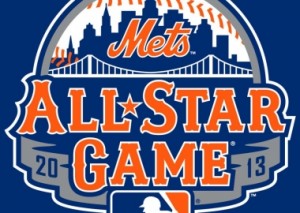 David Wright and Matt Harvey weren't the only Met organization employees to perform in All-Star Games this month.  There was also the Major League Baseball Futures Game at Citi Field this past Sunday and the Triple-A All-Star Game held Wednesday night.  As well as the Double-A Eastern League's All-Star Game held back on July 10th.
Before diving into the Futures Game though, looking at Harvey's performance on Tuesday, one could have made the case that it was a typical Citi Field start for Harvey;
Some jitters in the first, but Harvey battled through, and finished his night without a run scoring and three Ks.
But the offense pretty much goes ice cold for most of the game while the pen falters in the middle innings, rendering Harvey with the dreaded no-decision.
And to cap it off, the game ends with a bit of a ninth inning tease of the home team pulling it out, but it is not to be.
Well, be that as it may from Tuesday night, future Met stars took the Citi Field stage on Sunday of the All-Star Game weekend.  Las Vegas' Rafael Montero was the Met representative on the World Team, and Binghamton's Noah Syndergaard and Savannah's Brandon Nimmo were the Met prospects on the U.S. Squad
The World would take the win 2-0, and Montero and Syndergaard started for both teams, but neither factored in the decision.  Both kicked off what would be a pitching dominated game with a solid only inning of work, with Montero going perfect, and Syndergaard allowing just one hit, but with one strikeout.  Nimmo would take the collar in his two at-bats on the afternoon.
Moving on to Wednesday night's Triple A All-Star Game in Reno, Nevada.  Wilmer Flores was the only member of the 51s selected to the game, and did not get into the game.
Also Binghamton's Allen Dykstra, Josh Rodriguez, Cesar Puello, and Logan Verrett in the Eastern League ASG which was held back on July 10th.  Verrett would give up four hits and two earned runs in his only inning of work and none of the Met position players would get on base.