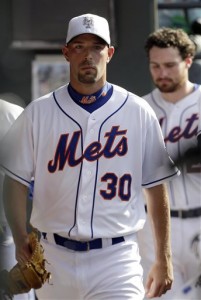 Whether he stays with the Mets for the duration of the season (perhaps maybe even beyond) or being part of deal to bring in some prospects, David Aardsma has once again become a valued commodity in the major leagues.
Aardsma put together another fine outing in the Mets' 13-8 loss to the Philadelphia Phillies on Friday night. While Jeremy Hefner struggled mightily on this night, several relievers did manage to make it quasi-respectable and Aardsma helped matters by pitching 1.2 scoreless innings and allowing just one hit and striking out three batters.
After Tommy John Surgery derailed his career after the 2010 season, and pitching in only game for the Yankees last season, Aardsma was given up on in many circles. In fact, the Miami Marlins even gave up on him in May—even though he pitched well for them in Triple A.
Picked up by the Mets off the scrap heap in May, Aardsma was recalled on June 8 and has been lights out ever since.
In 18 games and 19.1 innings pitched, Aardsma is sporting an impressive 2.33 ERA and 1.09 WHIP. Aardsma is striking out more than a batter per inning and is limiting the base runners in the process.
With each game he pitches in, Aardsma is starting to look like the late-inning relief pitcher he was with Seattle. Aardsma has earned the trust of Terry Collins and Aardsma is starting to reward Collins with stellar efforts of late.
With the way he is pitching, will some teams come knocking on the Mets' door inquiring about the services of Aardsma? It certainly seems logical teams will now look at Aardsma as a late-inning guy given his recent success.
However, what is Aardsma's value? What can he reel in on the trade market?
It's likely that the Mets won't be getting any blue-chip prospect in return for Aardsma, but at this point, is something better than nothing?
You have to be impressed with the way Aardsma is pitching, as his electrifying fastball is getting the best of the hitters he is facing lately. That said, why not keep him?
If the Mets don't get an adequate offer in the next couple of weeks, I wouldn't be so opposed to the idea of bringing back Aardsma (granted he keeps up this pace) next year. We all know the Mets' bugaboo in the last couple of years has been the erratic tendencies of the bullpen and Aardsma is looking like a pitcher who can help fortify this pen.
In any event, we should applaud the effort Aardsma is giving the Mets. He has been a breath of fresh air and it should be interesting to see how Aardsma's season unfolds in the second half.