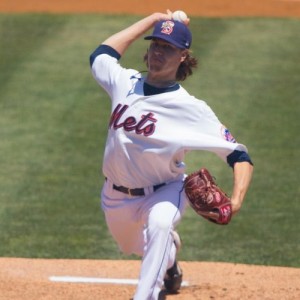 I give you a pitcher.  He's a skinny 6'4" righty from Deleon Springs, FL.  He went to Stetson University and as of today he's 25 years old.  He happened to be a 9th round pick in the 2010 draft and spent 2011 on the shelf with Tommy John surgery.
What if I were to tell you now that he's pitching in AAA… WELL and that he has the stuff you'd usually consider in the "Ace" category?
Would you believe me?
deGrom happens to possess a fastball with HEAVY sink that sits comfortably in the 92-94 MPH range with occasional flashes of 96.  He also possesses MLB average slider and changeup that he can throw for strikes.
How about now?
Let's add that deGrom started in Port St. Lucie this season.  He's pitched in three levels of the Met minors and looks like he could pitch in a fourth this season.  What can you expect?
deGrom gives up hits but only about 1 hit per inning
He's got about a 6-7 K/9 which isn't super powerful by "Ace" standards
He gets more grounders than fly balls thanks to his heavy fastball
He's a workhorse.  He's averaged 6.0 IP per start in each level he's been at this season
Can we really expect him in Queens this summer?
My answer is yes.  The Mets are sitting on three options for starter should someone become injured beyond the current issues.  The first name called is Chris Schwinden, but he's a temporary starter at best.  The next options are deGrom and Rafael Montero.
Some people would point to Montero having been promoted earlier as a sign that he'd be a thought for 2014, but the truth is that deGrom's secondary pitches are more advanced than Montero's and that Montero would have more to gain by staying in the minors.  Also, do not discount that Montero is only 22 and that deGrom is 25.
At the very least you now have seven starting pitchers who are gunning for one of five rotation spots this Spring.  If everyone is healthy the Mets will have to decide between:
AAA:
Not for nothing but Jordany Valdespin is hitting – It amounts to MAYBE some team taking a waiver on him as a toss-in for a potential trade.  He has no future on the Mets.
Wilmer Flores has been hurt – He's due back in the next few days from an ankle sprain.
The next Josh Satin?  Eric Campbell – Like Satin he's the forgotten man in AAA.  He's hitting .291/.402/.461 on the year.  Unlike Satin he plays some outfield and even pitches.
Matt Den Dekker shows SOME promise – He's got his line UP to .203/.294/.424 which still displays an impressive SLG for a center fielder.  All that matters is his 19 K's in 18 Games is an improvement.
AA:
Will the Mets PLEASE promote Allan Dykstra – AA pitchers from around the league beseech you.
Want some GREAT news on Cesar Puello? – 6 walks in the past 10 games.  As the biggest remaining issue with his play, this is a big deal.
LOOGY watch, Chase Huchingson – Now that Huchingson is a pure reliever the Mets seem to have something.  He's got a K/9 near 10 and he's not giving up a ton of walks… except against lefties.  In only 15.1 IP vs. lefties he's given up 10 of his 24 walks.
Jeff Walters is on the radar – He will be in the bullpen hunt in 2014.  Take a look!
As promised, Darin Gorski – After flopping in AAA, Gorski has pitched well in AA.  He's not "Old" but at this point he is still not showing me the stats that I get excited about.  Sure he's pitching well (particularly vs. righties) but he's 25 and this is AA and he's already spent a year in AA.
A+:
If Campbell is the Next Satin, Dustin Lawley is the next Campbell – He's not supposed to be a prospect, but this utility hitter is clubbing the ball at a .270/.318/.540 rate… that is a lot of power.
What pretty eyes you have, Kevin Plawecki – After starting his run in Port St. Lucie with almost no walks he has 6 in his last 10 games.  He only has 4 strikeouts in that time.
Matthew Bowman will be a player to watch in 2014 – He should be pitching in AA but I caution the optimistic that the odds are against him.
Domingo Tapia should repeat A+ – If you look at the numbers he's like Dr. Jeckyll and Mr. Hyde.
Full Season A:
Maybe we should watch Maikis De La Cruz? – With Nimmo struggling mightily, De La Cruz has put up solid numbers.
Gabriel Ynoa's bad starts aren't so bad – 5.0 IP, 10 Hits, 3 ER, 1 B and 8 K's.
I'm pretty high on Steven Matz – He needs to continue the good vibes in A+ ball next season but his prospect stock is back on the rise.
Short Season A:
Jared King needs to show some pop – Right now he's a contact hitting OF who doesn't run fast enough to steal bases or hit hard enough to drive in runs… not such a bargain.
L.J. Mazzilli needs to walk more – He's not doing terribly but his future will depend upon his OBP as he won't have much of an SLG.
R1:
Champ Stuart makes good on his athletics – He's not going to have much power but he's getting on base and using his legs.
Chris Flexen's statement start – 7.0 IP, 3 Hits, 1 BB, 11 K's.  Not impressed?  Check his slightly worse previous start.  There was a reason we paid for him to sign.
Robert Whalen's got the WHIP – Know how to have good stats?  Have less Hits + Walks than innings pitched.
R2:
Nothing to Report
DSL:
Jose Medina might be worth looking at – He's pitched 37 innings and only given up 24 hits and 4 walks.