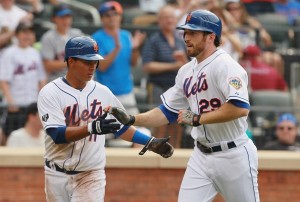 Being a Mets fan and journalism student, many of my friends come to me with their trade ideas and ask me if they will work. Some of them are just flat out ridiculous and others actually make sense. Last week, I talked about what the Mets needed to do at the winter meetings in order to succeed in the future. Now, it's time to talk about potential names and faces that could/should be Mets in 2014.
First Base: The struggles of Ike Davis have been documented at length, so no need to go there. But, it seems that Mets don't view Josh Satin as a long-term solution at the position and they are probably right. He's bound to cool off and pitchers will figure out how to beat him. He also is only playing against lefties, which is his strength. The Mets don't view Wilmer Flores as an option for first, although he has been playing there in Las Vegas as of late. It appears that the only way to upgrade the first base position would be for the Mets to either sign a FA or make a trade for young, under-control first basemen of the future.  Here are a couple of names to look out for.
Mark Trumbo: Trying to get the long-shot out of the way first. Trumbo is the type of power bat Sandy Alderson could be looking for. A .249/.312/.469 line this season is nothing to write home about, but he has hit 22 long-balls with 61 RBIs. He plays first very sound defensively and is only 27. The Angels want back a high-end pitching prospect in return, of which the Mets have a surplus. The Mets might not even talk to the Angels, but it's worth a look at Trumbo.
Michael Morse:  Morse is a guy who has struggled this year, but has had success for another NL East team in the past. If he can channel his 2011 self, where he posted a .303/.360/.550 line with 31 HRs and 95 RBIs, he's the guy the Mets are looking for. He also might be cheaper to get than a Trumbo from a prospect standpoint.
Eric Hosmer: With KC having a rough year, they could be looking for a piece or two to rebuild and might entertain an offer for Hosmer. Still at 23, Hosmer has room to grow at first base. He has bounced back from a bad 2012 to put up .284/.332/.427 line with 11 HRs and 45 RBIs so far in 2013.  Hosmer has played better defense in 2013 as well, and probably could be had on the cheap.
Shortstop: It's clear that Omar Quintanilla isn't the future at SS, and the opinions on Ruben Tejada have changed quickly. It makes sense for the Mets to look outside the box for the future at shortstop and here are two names they should look at.
Alexei Ramirez: With the White Sox in full sell mode, they would listen to offers for Ramirez. The 31-year-old shortstop has had his struggles over the past two seasons, but has shown promise in the past. He has had four double-digit home run seasons and gets on base with regularity. He isn't a guy who will cost too much. He gives the Mets a very defensively sound player who also can hit the ball. They aren't asking much out of their shortstop position, so Ramirez would only exceed expectations.
Zack Cozart: A bit of a long-shot here, but still possible. The Reds have Billy Hamilton, who is a natural shortstop, playing the outfield.  It would make sense for them to sell high on Cozart and move Hamilton to where he is more comfortable. Cozart is younger than Ramirez and doesn't bring the offensive flare that Ramirez has. But, Cozart is only 27 (four years younger than Ramirez) and can still grow at short. He isn't the most attractive option, but one that makes sense for the Mets.
This team needs to decide on the future of both the shortstop and first base positions. They need to do it quickly, as the market is very thin and the price for these guys will only go up. This off-season, the decision needs to be made and changes need to be made to these two positions. The future of the Mets is at stake.