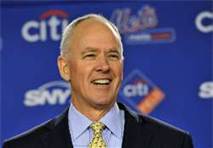 Wait 'till next year.  That is a phrase usually associated with the Brooklyn Dodgers of a certain era.  An era when they were frequent National League champions, or constantly competing for the top spot in the NL at the very least as they were for the better part of their final 16 years in Brooklyn.  Simply put, the Brooklyn faithful could set their September and October schedules months in advance around the Dodgers being in meaningful September games, and eventually the World Series.
Somehow this phrase has been co-opted to be used by franchises with recent dismal or mediocre performances but with a glimmer of hope around the corner.  The thing is, usually there are reasons behind the hope beyond young stars blossoming and surprising performances from players previously considered AAAA quality or worse ballplayers, and that is why this offseason needs to be a strong one for the Met front office.
Right now, since no non-waiver deadline moves were made, needs to be a time of player, and even manager, evaluation.  Decisions as to who should stay or go should be made in the next few months.  While some have probably been made already there are decisions that probably should be considered.
For example, is Ike Davis playing out his final months as a Met?  And if so, what value could he bring in an offseason move?  Ditto Marlon Byrd, as it is kind of surprising that he still has a locker in the home clubhouse at Citi Field.  Is it time for yet another overhaul of the bullpen?  Though we know how that works out sometimes with the crew brought in during the 2008-2009 offseason!  So maybe keep Bobby Parnell as an "in the mix guy" perhaps?  But other wise, it is time to bring in a better set of veteran relievers/spot starters.
Of course that brings up the 800 pound gorilla in the room, which incidentally is also something that is hampering the outfield corps as well considering Sandy Alderson's statements about the production value of the outfield this past month, and possibly explains why deals weren't made this week.  What exactly can the Mets afford to do this winter?  In past years "big splashes for the sake of making big splashes" have failed miserably, especially when it appeared the Mets were bidding against themselves several times; or when it seemed that the Mets were aiming to overspend for the best in a weak crop.  But there is the question of can the Mets even make drastic roster overhauls that don't include promoting from within?
And the case of evaluation for Terry Collins and a possible replacement is also something that needs to be done as well.  One would probably consider that Collins is a lame duck skipper, but do the Mets promote from within?  Or wait to see what shakes down from managerial overhauls this offseason?  Does Collins even return?
A lot of various questions need to be addressed in the coming months by Alderson and his staff, if Met fans can be able to use "wait 'till next year" in proper context.