From the Mets' official Twitter account: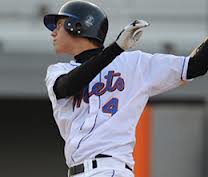 Happy (early) Birthday Wilmer Flores!! Flores, born on August 6, is on his way to New York!!

— New York Mets (@Mets) August 6, 2013
Flores had been hitting .322/.358/.532/.890 with 15 home runs at AAA Las Vegas.  According to Jorge Castillo of the Star Ledger, the corresponding 25-man roster move will likely be to move closer Bobby Parnell to the Disabled List.
Flores has played mostly second base this year in the minors, but has also seen time at third and first bases.
It's worth keeping in mind that the Pacific Coast League, the league the Las Vegas 51′s play in is a big hitter-friendly league, and Cashman Field (the 51′s home stadium) is known as the Coors Field of the PCL.
Steamer projects Flores to hit .252/.290/.367/.657 in the major leagues this season.