At the 2013 Baseball Writers Association of America dinner, when New York Mets GM Sandy Alderson was asked about the state of his outfield, he quipped, "What outfield?"
On April 23, the Mets promoted Juan Lagares from AAA Las Vegas.
On June 18, the Mets acquired Eric Young, Jr. from the Colorado Rockies.
Until June 18, Alderson's joke seemed prescient. A starting outfield mainly comprised of Lucas Duda, Kirk Nieuwenhuis and Marlon Byrd — supplemented on occasion by Lagares, Collin Cowgill, Jordany Valdespin, Andrew Brown and Mike Baxter — was bumping along with a combined slash line of .218/.300/.389/.689 with 220 strikeouts to boot. There was little speed, not enough power and Polo Grounds-bad defense. The Citi Field expanse may as well have been Yellowstone, considering the lack of offense and the daunting defense. There was speculation that this group would be historically bad in terms of production; not even the most rabid of orange and blue fanboys could convincingly argue against it. Then, the cavalry arrived from out west.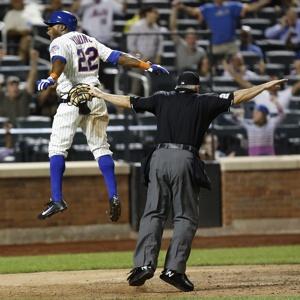 At the time, it seemed like a minor deal. Eric Young is a nice little player, but not one to shake the foundations of an established squad. However, in the opinion of your intrepid columnist, the three most overlooked aspects of a ballplayer are speed, base running and defense. Young arrived toting all three. Immediately installed as the left fielder, he gave the offense and defense a jolt. A couple of days later, Duda landed on the disabled list with a strained intercostal muscle. He has since come off the DL, but speculation is rife that he may not see Queens again until the rosters expand in September. It's become clear that Duda will not be part of the "core" going forward. This is the smart decision. Duda's skill set does not translate well to Citi Field and he has what Bill James would call "old player" traits: lots of strikeouts, a fair bit of power, immobile defense. The Mets – and Duda – would be better served if he were sent to the AL as a DH. In any case, Duda's absence allowed Lagares take hold of the centerfield job and not let go. His offense had been a big question – his batting average had dipped as low as .067, as late as May 7 – but since that date, he's lifted his average exactly two hundred points.
Which brings us to the revelation of the year, Marlon Byrd. Signed to a pittance of a contract, Byrd was supposed to be a complementary player, an instant offense guy, some pop off the bench. Consistent play and necessity have turned Byrd into the best Mets right fielder since the heyday of Darryl Strawberry. This is not mere hyperbole: even in the great year of 2006, right field was a black hole, manned by the likes of Xavier Nady, Lastings Milledge, Endy Chavez and Shawn Green. Byrd's unlikely success has, if nothing else, bought the organization an extra year of development for the likes of Brandon Nimmo, Cory Vaughn or the currently disgraced Cesar Puello.
In any case, since the acquisition of Young and the installation of Lagares as the full timer in center, Sandy Alderson has described the "what" outfield as one of the strongest in the majors, and sporting a slash line from June 18 to August 7 of .272/.332/.423/.755. Is it Carl Yastrzemski/Fred Lynn/Jim Rice good? No, but it's a darn sight better than anybody could have predicted.
What outfield? This outfield.
Follow me on Twitter @CharlieHangley