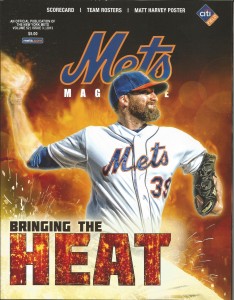 This time on Memorabilia Review we will take a peek at the third program put out by the Mets for the 2013 season.
This issue is Volume 52, Issue #3, cover price is $5.  It is the third of 5 different issues that the Mets are scheduled to produce in 2013 (April 1st, May 20th, July 19thth, August 2nd and September 9th), and it is a Professional Sports Publication production and only 176 pages.  Closer Bobby Parnell gets the cover shot, with the cover caption "Bringing The Heat."
Feature articles are on Parnell, which is also the bi-lingual article of the issue, LaTroy Hawkins, and a look at Jeremy Hefner's reaching out to his fellow Okies after this summer's rash of tornadoes.
The usual departments are represented;
The 2013 schedule, truncated to be from mid July forward of course, and ticket info.
The Around The Bases capsule previews of upcoming homestand opponents.  This issue looks at the Phillies and Braves.  As well as Rookie Watch spotlight on the Braves' Julio Teheran  And there is also a page about the 2013 Citi Field Summer Concert Series that will be happening after several games this summer.
Next up is the Parnell feature, which spends a lot of time on Parnell's charity work.
Throughout the book are scattered full page action shots under the banner "Mets All-Stars of the 1980s."  Represented are Gary Carter, Ron Darling, Dwight Gooden, Keith Hernandez, and Darryl Strawberry.
The Hawkins feature is next, and it is followed by a one page look at celebs seen at Citi, and a three page advertisement article for the coming Brooklyn Cyclone season.
Up next is the scorecard, once again is the same for the entire length of the homestands the issue covers, and features a Matt Harvey poster.
Next up is a one page piece on the Electric Daisy Carnival that was held in Citi Field's parking lot on May 17th-18th.  This is followed by the Hefner piece, which is followed by a couple of paragraphs on Star Wars Night at Citi on July 21st.
Following that are pieces on the "Super Tuesday" double header in Atlanta on June 18th when Matt Harvey and Zack Wheeler took the mound for the Mets, the return of the "Mrs. Met" mascot, an In The Community look at National Grid's Amazin' Calls which looks like the Met version of Make A Wish, and the Mets Volunteer Challenge.
Prospect Profile is the next regular department, and this issue looks at Kevin Plawecki.
Met merchandise gets a one page look, followed by a look at the annual Weather Education Day featuring Mr. G of PIX11.  Following that are the Specialty of The House look at Batter Up Chicken by Tribeca Grill and All-Star Alumni Profile catching up with Jesse Orosco.
Then you get the usual Kids Pages, Citi Field information, and the On The Air headshots of the broadcast crews to wrap up the book.
Definitely worth the 5 buck cover price!  By the way, for information on how to purchase the programs without going to Citi Field, the information is listed on the Mets' website at http://newyork.mets.mlb.com/nym/ballpark/information/index.jsp?content=guide#guide_m
"METS MAGAZINE WITH SCORECARD
Sold at all merchandise locations within Citi Field for $5. It may also be purchased by writing to: Mets Magazine, c/o New York Mets, Citi Field, Flushing, NY 11368-1699. Please add $1 for postage and handling – payment should be made by check made out to Mets Publications or money order."