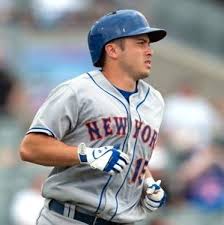 Baseball players face many obstacles in their development playing in the minor leagues, many they cannot control.  The molding of a major league player starts off in rookie leagues after the entry draft, and the ascent through the minor leagues begins as success perpetuates.  However, if success eludes a budding talent, the ascent stops, and the process stalls.  This is the case for most major league hopefuls, it's just a matter of which level in the minors it happens. In the case of Travis d'Arnaud, the Mets number one prospect, the rise has been steady, productive, an definitely unpredictable.
Since 2007, after being drafted by the Phillies in the first round, d'Arnaud has developed into the top MLB catching prospect.   He's used each level of the minors to showcase his offensive tools and defensive prowess.  In 2011, d'Arnaud had his breakout year after being promoted to Double-A New Hampshire in the Eastern League.  That season, in the Blue Jays organization, d'Arnaud had a slash line of .311/.371/.542 with 21 HR and 78 RBIs while playing in 114 games.  He was also named best defensive catcher via a poll of Eastern League managers.   In 2012, for Triple-A Las Vegas, the rise picked up serious momentum when he went on to hit .333/.380/.595 with 16 HR and 52 RBIs in an injury shortened 62 game season.   To use the word developed at this point would be an understatement.  The torn ligament in his knee was the only thing that prevented a call-up last summer.
After another injury plagued season in 2013, albeit from a separate foot injury, d'Arnaud is primed to make the big show.  Met fans got a preview this spring training when he clearly was a standout. On display in St. Lucie was his ability to hit for power to all fields and exceptional abilities behind the plate.  Met pitchers have raved about his skills and his innate techniques of framing pitches.  Now in Las Vegas for the past three weeks, d'Arnaud has a slash line of .302/.486/.566 including 19 R, 2 HR, and 11 RBIs.  The OBP which includes 20 walks in 18 games is quite revealing of his comfort level at the plate despite missing half the season.  Now the foot injury is healed, what could possibly stand in his way of a call-up?
Well, for the last two weeks Mets fans have eagerly awaited the birth of John Buck's newborn baby.  The three day paternity leave will enable the Mets to call up an extra player to fill Buck's spot on the roster, which will definitely be d'Arnaud.  The estimated due date of August 1st started a countdown of such unusual circumstances for fans, but even more so for d'Arnaud.  Buck, already a father of two, was prepared to spend the last home stand with wife and newborn, but the powers that be did not cooperate.  The 33 year old veteran proceeded with his team out west on an eleven game road trip.  Roughly ten percent of all pregnancies do in fact go beyond the typical 42 week estimated pregnancy term, and they become less predictable each time going forward.  It's difficult to recall a scenario in which an athlete's fate rested on an unrelated, unborn child, but like they say… baseball is a game of firsts.  Now, with the west coast trip winding down in San Diego, a debut is clearly imminent for d'Arnaud.
Coincidently, 23 years ago, Todd Hundley made his major league debut in San Diego's Jack Murphy stadium as a prized and very raw 20 year old Mets catching prospect. He went 1-for- 4 with a double off former Red Sox pitcher, Bruce Hurst.  Although, Hundley turned out to have a nice and eventful career with the Mets, d'Arnaud projects to be a more polished and complete player.
With this year's hopes of the playoffs dwindling after a tough series in Los Angeles, one more promising taste of future success would be a welcome sight.  We've wet our beaks with Matt Harvey, Zach Wheeler, and more recently Wilmer Flores, but now stand ready for the jewel prize that sent R.A. Dickey packing to Canada.  Now as we await the birth of a bright young career, we must first wait for the birth of a young baby back in New York.  Hopefully, this will be the last obstacle d'Arnaud will face in his development from the minors to the majors.