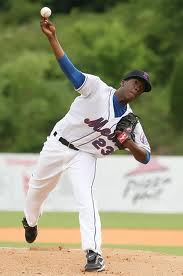 Readers of this column will recognize the name Akeel Morris.  He, Domingo Tapia and Juan Urbina were once the  secondary pitching story to Matt Harvey back in 2011.  The reason that Morris was pegged as a future star was thanks in large part to a fastball that sits at approximately 96 MPH and has the potential to break into the triple digits.  Throwing hard and pitching well are two different things and after a strong 2010 and 2011 in the GCL and APP he was abused in 2012 to the tune of a 7.98 ERA.
In 2012 opponents managed to hit a robust .253 against Morris.  This is worth noting because Morris WILL walk people.  Here are his BB/9 & H/9 numbers by year:
2010: 6.2/4.7 (GCL)
2011: 6.7/5.3 (APP)
2012: 5.2/9.0 (APP)
2013: 3.8/4.9 (NYP)
Notice two things.  First, in 2012 Morris suddenly gave up almost twice as many hits as usual.  Second, that 2013 seems like it might be a career year.  The explanation for the improvement for 2013 isn't necessarily that he's having a "flukey" good year.  It could be that he's switched into relief… sorta.
In 2013 his stats have been excellent:
G – 11
IP – 33.1
H – 18
R – 4
ER – 2
BB – 14
K – 47
GO/AO – 0.88
One of the outliers of a "flukey" season are numbers that come out of the blue.  So take a look at his K/9 over 4 seasons:
2010: 10.2
2011: 10.7
2012: 11.7
2013: 12.7
Those are not numbers that strike me as "flukey".  He's always had a powerful arm and he's always generated strikeouts.  Ready to graduate in 2014 into a full season league I expect that Morris is poised for a breakout year and could become a closer for the Mets in the future.
AAA:
No room for Lucas Duda – Duda simply is not hitting enough to warrant the Mets making space in their roster.  Sure… he's hitting, but he's striking out a bunch and not hitting for power.
Matt Den Dekker waiting for the call – He's leveled off in some senses but become consistent in others.  He's got a future as a 4th or 5th OF for sure.
Kirk Niuewenhuis is hot – 6 doubles and 2 homers in his last 10 games will do that.
Rafael Montero's best AAA start – 7.0 IP, 4 Hits, 0 Runs, 0 Walks and 8 Strikeouts!
AA:
Cory Vaughn trying to make up for the lack of Puello – Vaughn has showed much more consistency since his most recent promotion.
Travis Taijeron is streaking – He's got a 1.122 OPS in the last 10 games.  Expect a .500 OPS in the near future.
Darin Gorski is cruising along now – He gave up some runs on the 14th but he's got tons of quality starts to finish out his year.
Noah Syndergaard unleashes the power of Thor – 5.0 IP, 3 Hits, 0 Runs, 0 Walks and 10 Strikeouts!
Jeffrey Walters is good… not sure how good though – Look, it's hard to not write about the guy at this point but I can't project him as a star just yet.
A+:
Michael Fulmer strong in a short start – 3.1 IP, 2 Hits, 0 Runs, 2 Walks and 3 Strikeouts.  Not bad.
Full Season A:
Brandon Nimmo is back – In his last 10 games he's managed .412/.535/.500.  He's walking a lot and hitting more.
Gabriel Ynoa is good – He belongs in the Top 20 and should be there on most Met lists.
Short Season A:
So this is Gavin Cecchini? – The Met SS has come to life of late and has 5 multi hit games in his last 10.
Robert Gsellman a success in the NYP – He's not striking out a ton of hitters but he's getting great results.
Rookie APP:
Robert Whalen is a 2014 Ace in Brooklyn – He's been very successful in the APP.
Chris Flexen not far behind – Flexen was a potential steal for the Mets when drafted and has looked good in his second run through the APP.
Rookie GCL:
Dominic Smith showing signs of life – People who project Smith on the Mets by 2016 are crazy but he's starting to hit in the GCL which is good to see.
Octavio Acosta should be on your radar – He's got a habit of not giving up a lot of hits or walks.  That's a good habit to get into.