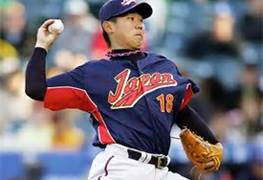 So, Daisuke Matsuzaka.
You know, on the surface, one can go on, and on about how this is the latest in a very, very, very, very long line of the Mets getting someone, specifically pitchers, whom had somewhat of a name and at pretty much the end of the line.  Names like Warren Spahn, Mickey Lolich, Dean Chance, Mike Marshall, Randy Jones, and Hideo Nomo come readily to mind.  Along with successful-ish versions of the same theme, where the pitcher did give the Mets something, but in the end either went on another team, or faded into the sunset like Bret Saberhagen, Frank Viola, Tom Glavine and Johan Santana
But, on the flip side, this is somewhat different.  Yes it has been years since Matsuzaka has been relevant and has been rocking a near 4 ERA with AAA Columbus before being released this year by the parent Cleveland Indians.  However, with the starting depth hurting in a bad way with Jeremy Hefner facing possible Tommy John surgery and Jenrry Mejia on the shelf with bone spurs in his elbow (and to say nothing about an innings wall shut down or slow down for Zack Wheeler and Matt Harvey, the latter depending on the potential Cy Young race), taking a cheap flyer on someone that has been slightly better than "Proven Crap" at one point in his career (well, in this specific case, clearly one should take many of the names listed in the first paragraph over Dice-K) is probably as good of a transaction you could make.  Especially in a season that looks to be all but done.  Though there is a small cynical thought about this being a way to court the Asian population to come to Citi Field in droves to watch the one time Seibu Lion ace.  Highly doubtful as off handed generally thinking Met attendance has historically not been driven by a singular "must see" player.  Though to be fair, let's see how Matsuzaka does, maybe if he does put a few good starts together, there will be a bump in attendance for his home games.
Be that as it may though, Matsuzaka's stats in Columbus do seem to be decent enough to warrant a second crack at the majors, and being in the National League could be a needed change of scenery.  And while it is a pipe dream to suggest he'd find the magic he had for the Red Sox in 2007-2008, it isn't that unreasonable to expect a little spark out of him.  And if not, well where was the harm?  He isn't blocking anyone that won't get called up in a week, and his being on the 40 means the removal of a "Proven Crap" type of player as opposed to a minor league prospect.  So bringing him in really doesn't harm the Mets in the long run, and if he does have something left, than it turns out to be one of the better scrap heap moves the Mets had made in their history.
*****
Got something to say about the Mets? Go to the Mets360 Forums to talk about whatever you like in regards to the Amazins!
*****