@AdamRubinESPN Wheeler is another OVERRATED Met prospect

— Chris #KNICKSTAPE (@ChrisNYG) July 25, 2013
Maybe Zack Wheeler is the next Mike Pelfrey… #EW — Francisco Sarceño (@Frank_Guate) July 6, 2013
Putting this on the record in the Twitterverse, Zack Wheeler will be Mets' Phil Hughes. Lots of hype/potential but won't live up to it — John Healy (@jphealy) June 30, 2013
I'm not sure Hefner's stuff isn't as formidable as Wheeler's.Not kidding. Lacks command-he's 23. Has he improved since leaving good SF org?

— FakeSandyAlderson (@AldersonFake) June 26, 2013
Those are real tweets from real people talking about Zack Wheeler.  All of these tweets are from before his last five starts.  In his those last five outings, Wheeler has tossed 32.1 innings, struck out 31 batters, walked five, has a 1.06 WHIP, has surrendered just one home run, and nine runs overall.
Simply put, Wheeler has come into his own over his last five starts, after getting off to a bit of a rocky start following his June call up.
Why fans are quick to jump on prospects when they get called up and don't immediately perform is beyond me.  These players are young men thrust into the spotlight of the major leagues for the first time, with enormous expectations, and facing guys 10 years older and wiser than them.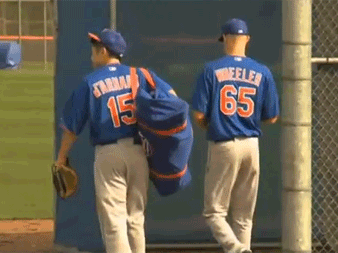 An immediately successful prospect is more an anomaly than the norm, but our perceptions are skewed by our fandom.  If another team's prospect can come up and dominate, why can't my team's?
Deep down we all know this, but our emotions tend to take over and force us to suspend our better judgment when it comes to our team.
But when it comes to evaluating a prospect's Major League performance, a cooler head will prevail.
When Wheeler or Travis d'Arnaud or Wilmer Flores struggle a little, taking to social media or calling into WFAN or even just saying to your buddy that they are bums or busts is obviously not the right move to make.  In fact, all it will make you do is seem foolish when they do eventually figure it out (especially if a certain Mets blogger retweets you to make you look dumb).
These are words to remember as the Mets stumble towards the finish line of another sub .500 season, and look towards a 2014 where more minor leaguers will be called up for the first time and struggle.  If you sit tight through the growing pains, the success will be that much sweeter when the player has fully bloomed.
Joe Vasile is a play by play announcer for High School Cube and Widener Pride football and host of 'Ball Four with Joe Vasile' on 91.3 WTSR in Trenton.  Follow him on twitter at @JoeVasilePBP and visit his website.