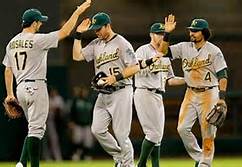 OK Mets fans – name five players on the Oakland A's. While the A's play in the AL West, they're also 86-61 this year, so it shouldn't be that much of a challenge for a baseball fan to know their top players. Let's see, there's dark horse MVP candidate Josh Donaldson, there's down ballot Cy Young Award choice Bartolo Colon, there's Home Run Derby champ Yoenis Cespedes and then the big names run out.
Of course there's Metsense favorite Josh Reddick and they pulled off a trade in the offseason to get position player Chris Young. So, it's not impossible to name five but it's not exactly easy, either. So, how on earth does a team with so few stars have the second-best record in the American League?
Good health, especially among its starting rotation is a key. But there are two things that the Mets could adopt from the A's that are leading to success in the Bay Area. Let's start with the bullpen. Oakland has five relievers to have appeared in 40+ games this year and two of them are lefties. However, they are not strict LOOGYs by any stretch of the imagination, as both have faced more RHB than LHB.
Lefty Sean Doolittle leads the relievers with 63.1 IP. He's faced 163 RHB and 85 LHB. Despite not having the platoon advantage in two-thirds of his appearances, he has a 3.41 ERA, has stranded 26 of 28 inherited runners and has a 1.122 WPA, the 13th-best mark for a lefty reliever in the majors this year.
By comparison, Scott Rice has faced 75 RHB and 138 LHB and despite Terry Collins doing his best to make everything advantageous for Rice at the expense of the rest of the bullpen, Rice recorded a 0.245 WPA, significantly worse than Doolittle's mark.
Perhaps even more important is how the A's handle their hitters. Manager Bob Melvin is running platoons all over the place and the results have been fantastic. While they may not have a star-studded lineup, they do not have any sinkholes, either. The A's run traditional platoons at catcher and first base and more complicated ones in the middle infield and OF/DH.
Their catcher platoon gives them a 118 OPS+ compared to other catchers in the league and their first basemen are above league average, too, with a 103 mark. Their worst position is DH, where they have an 86 OPS+. While that's not good, one only has to look at Oakland's main division rivals and see that Texas gets a 79 OPS+ from first base and Los Angeles gets a 76 OPS+ from its third basemen to realize that Oakland's heavy platooning has given them a low-cost advantage over their higher-spending rivals.
The 2014 Mets could conceivably platoon at three positions, depending on how the offseason plays out. A Lucas Duda/Josh Satin combo at first base makes a ton of sense. If they do not acquire a SS this winter, a Ruben Tejada/Omar Quintanilla duo could provide league average production, compared to the 68 OPS+ the Mets received this year while playing those same two guys in everyday roles at different points. And Matt den Dekker has probably earned himself a platoon role in the outfield, too, even if we don't know who the righty-hitting half would be.
Somehow the idea has taken root here in the 21st Century that you cannot platoon at multiple positions when you carry 12 pitchers. Most teams carry a backup catcher, two backup infielders and two backup outfielders, which indicates you can platoon at five different spots, if needed. Everyone wants to be a full-time player but the simple fact is that some players are better suited for 600 PA in a season than others.
When your payroll does not allow you to carry a star at each position, you need to be creative, both in your roster construction and utilization. It's up to Sandy Alderson to give Collins the complementary pieces to be used in a platoon, which means not opening the year without a backup shortstop on the roster. But it's also up to the manager to recognize who needs to be platooned and to be able to deal with the hurt egos that may develop.
Too often, we look at what a player can't do, rather than what he can. It's possible den Dekker may never hit lefties enough to be a full-time player and he strikes out at an alarming rate. But he can play defense, hit the ball out of the park and steal bases. There's an easy way to maximize his value. It may not be so cut-and-dried with other flawed players, but a creative manager finds ways to extract value from guys who may not be full-time starters.
The 2013 A's have showed the world that sensible bullpen usage and platoons can lead to a winning record. You take the best players you have and use them in a way to maximize their talents, while not putting other players in worse situations. It's hardly revolutionary. If anything, it's a throwback to the way the game was played for most of the 20th Century.
Instead, our manager bends over backwards to get lefty relievers in the game whenever possible and prefers to play his position players until they drop. It's a CYA mentality that has won Collins praise from the mainstream media and, along with a lack of healthy star players, has led to three consecutive losing seasons.
I now officially have a rooting interest in the postseason. Perhaps the best way for a return to common sense in the game is for a team like the A's to win it all. Perhaps if we see a team that platoons up and down the lineup and lets their lefty relievers face righties win a championship, the Mets might be inclined to do the same.
So, for the first time in my life, I'm going to root for the A's.
**************************************************************************************************************
Got something to say about the Mets? Go to the Mets360 Forums to talk about whatever you like in regards to the Amazins!
**************************************************************************************************************