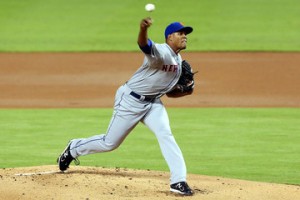 Outside of Wednesday night's thrilling come-from-behind win against the Giants, in which Josh Satin hit  a walk-off two run single, not much has been going the Mets way this month.
As usual, in the month of September we get a closer look at some prospects that could possibly help the club going forward. While the Mets do not have many call-ups (and good ones at that) to work with, a few have made their way to Queens nonetheless and they do bring some intangibles to the table.
Here are a few of the September call-ups, and what we can expect of them in 2014 and beyond.
Matt den Dekker- We all knew den Dekker could play defense and he has done a great job of showing it off this month. With Juan Lagares likely patrolling center for the foreseeable future, den Dekker may have to stick in right field. And he's done well there, I may add. den Dekker is not a polished hitter by any stretch. So, at this point don't expect him to be a starter in 2014.
Vic Black- Black, acquired from the Pirates (along with Dilson Herrera) in exchange for Marlon Byrd and John Buck, is hard-throwing righty who profiles as legit set-up man of the future. He was in the Pirates top-20 prospect list, but he does have a limited upside. However, for a team in need of bullpen arms, Black is sure to make the 2014 roster. He should only get better.
Jeurys Familia- After being billed as future potential starter, Familia's star has faded a bit in the last couple of years, especially when you factor in the injuries. But like Black, Familia should become a great weapon out of the bullpen. Familia throws hard and when he is healthy and in a rhythm, he can be a fantastic set-up man—maybe even a potential closer down the line.
Zach Lutz- At this point, Lutz is simply blocked from making a legitimate impact in the majors, as his best positions are third base and first base. With David Wright entrenched at third (and Wilmer Flores getting the next shot if something happened to Wright) and the Mets having Ike Davis, Lucas Duda and Josh Satin as options for first base, Lutz will be nothing more than organizational depth going forward.
Juan Centeno- Centeno had a nice debut on Wednesday, going 2-4 and having a key RBI hit in the 9th inning to keep the comeback alive. Centeno is going to have to show us much more if he is to be considered a viable backup option at catcher next year.
Sean Henn- If we know Terry Collins, we know he loves his LOOGY's. However, Henn's value is limited. If I can say anything nice, I guess I can say he's better than Robert Carson. He'll have to have a good spring next year to make the squad.
***************************************************************************************************************
Got something to say about the Mets? Go to the Mets360 Forums to talk about whatever you like in regards to the Amazins!
***************************************************************************************************************