When I rolled my ankle last fall, I was barely off crutches a week later for my birthday. And when my knee bent the wrong way playing catch this summer, an MRI revealed a bone bruise after the pain lingered a full month later.
But when I heard that New York Giants tailback Andre Brown would miss half the season from "a little crack" in his leg or how Mets closer Bobby Parnell was MIA with neck pain, there was no sympathy. Gone was much of the same understanding I expected from others just months earlier.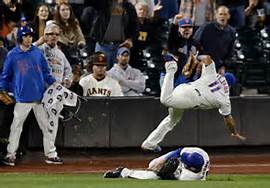 As of Wednesday evening, 13 Mets were battling injury – the most in Major League Baseball. Some were expected to return long before the season ends on Sept. 29 and others had the season end during Spring Training. Each has their own story, diagnosis and recovery plan.
And yet, some of the names elicited feelings of contempt. At the same time, a level of understanding appeared for others.
Reading names of Flushing stars like Matt Harvey, David Wright, Bobby Parnell and even Johan Santana instantly results in sympathy. Seeing Ike Davis and Ruben Tejada on the list elicits anger. Other names, Jenrry Mejia, Scott Rice and Jeremy Hefner for example, create more confusion.
The obvious conclusion is that personal preference goes a long way towards these feelings. Tejada underperformed all season and reportedly had a questionable work ethic, so I feel little sympathy when he broke his leg earlier this week. On the other end, Wright was clearly the correct choice for captain with his hustle and accountability, the reason why I feel bad about his hamstring. Parnell's early dominance earned fans' affection, but that decayed as he remained shelved indefinitely with a stiff neck since late July. Rice was a feel-good story when he finally broke into the majors after 14 years, but as a rookie middle reliever, it's easy to forget the lefty who dealt with a sports hernia since June.
What's harder to remember, and far more important, is that these guys are human beings. Their bodies break down and need time to recover. And whether they play baseball, football or synchronized swimming, they're also professional athletes. They're expected to make a lifetime's living during the physical peak of their lifetimes – about 15 years from their late-teens until their mid-30s. It's their job to regularly force themselves onto the field despite that lingering cold, a pounding headache from a night on the town or a mild hamstring sprain. If they don't, they don't get paid. And if they don't get paid, they've failed in their career.
The Mets much-maligned medical staff adds another wrinkle into the injury discussion. A good staff should help prevent injuries and limit the damage when they do happen. The organization has been involved in a number of dubious decisions during Head Athletic Trainer Ray Ramirez' nine year-term. Retired outfielder Ryan Church suffered a mild concussion sliding into second base in Atlanta in May 2008. Despite feeling like bobbing in a boat in the Bering Sea, the Mets flew him to Colorado and let him play in the thin air, both of which exacerbated his condition. Church also allegedly suggested former catcher Brian Schneider have his swollen knee looked at by the trainer, only to be told "They don't want to hear it." A team official allegedly called retired reliever Billy Wagner "a wimp" before he missed all of 2009 recovering from Tommy John surgery.
If the organization wants to have a banner year in 2014, team officials need to get their medial affairs in order. It's tough enough to win over fans when an underachieving player hits the DL, but not properly treating medical maladies is surefire way to ruin yet another season.
**************************************************************************************************************
Got something to say about the Mets? Go to the Mets360 Forums to talk about whatever you like in regards to the Amazins!
**************************************************************************************************************