Welcome to the off-season. Once again, since the Mets are not one of the ten participants in the post-season, it's time instead for some post-mortem. In this new series, the Mets360 staff will take a look back at our pre-season previews and see how they played out. Just a fun little ongoing exercise to while away the days until mid-March, when the focus turns again to Port St. Lucie, hot rookies, veterans seeking rejuvenation and who's "in the best shape of his life."
Today's player is none other than our own Captain America, David Wright.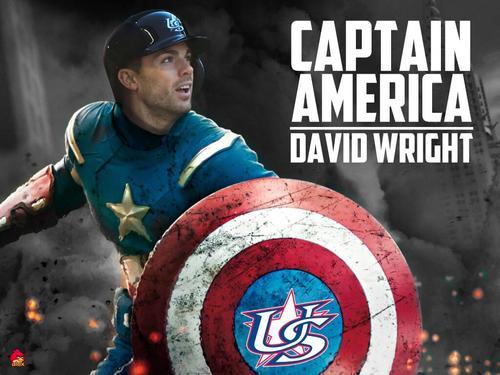 David Wright entered 2013 as the mirror opposite of Ike Davis. Where Davis had a dismal first half and an extremely strong second half of 2012, Wright had played the first half as a no-brainer All-Star, then flopped miserably after the break. The jury was decidedly out on what kind of 2013 Wright was going to have. What was the tell? What could we latch on to? Well, the Mets360 family took the optimistic route and latched onto his stellar first half.
Our predictions for 2013 went like this:
PA – 652
AVG – .298
OBP – .383
SLG – .490
HR – 24
RBIs – 97
K % – 17.5
In short, we were looking at All-Star David Wright. The David Wright who showed up at the WBC and earned the "Captain America" moniker with his stellar – dare I say "clutch?" – play in that misbegotten tournament. So when spring training ended, all eyes were focused squarely on David Wright's performance when it counted. Through July, those eyes were not disappointed. From word one, David Wright played like…well, David Wright. He delivered a slew of big hits, fielded his position in the Gold Glove style to which we fans have become accustomed and even delivered his requisite post-game comments to the press in something louder than his usual whisper. When people started to notice that the Mets were playing some half-decent ball around the middle of July, David Wright was in the thick of it. It's almost as if you have to say his full name as one word. Only one other player in Mets history was treated like that: Tom Seaver became "tomseaver." David Wright was on the verge of becoming "davidwright."
Then, the Metsian pedigree took over. On July 29, the Mets beat Miami 6-5. Wright went 2-for-5 with a double and knocked in a run. On running that double out in the third, he felt a slight grab in his right hamstring. Of course, he stayed in to finish the game. The next day, he played all 10 innings in a 4-2 victory over the Marlins, again going 2-for-5, with a double. The Mets ended up splitting the series, but Wright was starting to develop a limp. Coming home to face Kansas City in an interleague tilt on August 2, the Mets played one of their customary, patented 2013 extra-inning games. Legging out a base hit in the bottom of the 10th, Wright yelled out in pain as he crossed first base, grabbing the back of his right thigh. His hamstring was torn, the balance of his 2013 in serious jeopardy. Management and the fan base moved on – we all know how to steel ourselves when a major injury happens – knowing that 2013 was going to be a lost season anyway and we would most likely see the end of it without getting to enjoy watching David Wright play.
Of course, Captain America would have none of it.
Wright made sure to salvage at least a ragtag remnant of his 2013 season. Still not 100%, he came back onto the field on September 20, determined to make the last seven games of the season memorable. All he did was scorch a two run homer on the second pitch he saw off Cole Hamels, his blast the difference in a 6-4 Mets win.
His cruelly truncated final numbers looked like this:
PA – 492
AVG – .307
OBP – .390
SLG – .514
HR – 18
RBIs – 58
K % – 18.4
How those 46 missing games would have played out is anybody's guess, of course, but our predictions look like they would have been almost dead-on. Manners looks like he wins the "closest to it" prize, predicting a slash line of .301/.390/.485, 22 HR and 95 RBI. Stashin seems to be most off target, seeing .290/.377/.470, 20 HR, 95 RBI. As for the "pros," Bill James saw Wright at .302/.392/.488, 21 HR, 100 RBI in 652 PA and ZiPS had him .274/.357/.499, 19 HR and 85 RBI in 610 PA.
So pretty much everybody expected a big year from David Wright and for his time on the field, we got it.
As would befit someone called "Captain America."
Follow me on Twitter @CharlieHangley
***************************************************************************************************************
Got something to say about the Mets? Go to the Mets360 Forums to talk about whatever you like in regards to the Amazins!
***************************************************************************************************************