Welcome to the off-season. Once again, since the Mets are not one of the ten participants in the post-season, it's time instead for some post-mortem. In this new series, the Mets360 staff will take a look back at our pre-season previews and see how they played out. Just a fun little ongoing exercise to while away the days until mid-March, when the focus turns again to Port St. Lucie, hot rookies, veterans seeking rejuvenation and who's "in the best shape of his life." Today's spotlight is on Ruben Tejada.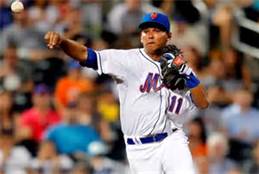 In a word: bad.
After two productive, albeit injury-shortened, seasons in 2011 and 2012, we here at Mets 360 thought that Ruben Tejada was going to build upon his past success in his age 23 season.  It seemed like the biggest question mark surrounding Tejada was his ability to stay healthy, but other than that, he was the shortstop of the future.
Mets 360 writers were fairly optimistic that Tejada would stay healthy and continue to produce at a relatively high level:
PA: 565
AVG: .286
OBP: .340
SLG: .360
HR: 3
RBIs: 42
If the Mets got production like that from their shortstops this year, they might have won two or three extra games.
But instead Tejada flopped, earning himself a one-way ticket to Las Vegas (that actually doesn't sound too bad) where he would toil for more than half of the season.  Tejada was so bad, that not only was Omar Quintanilla considered a lateral move, but his 66 wRC+ was actually a significant upgrade over Tejada's 48 wRC+.
The rest of his numbers are just as ugly:
PA: 227
AVG: .202
OBP: .259
SLG: .260
HR: 0
RBIs: 10
Ouch.
None of us even came remotely close, but the "closest to the pin" award has to go, once again, to Spencer Manners, who predicted a .275/.340/.360 slash line.  The most off-target is our friend Chris Walendin, who saw Tejada hitting .308/.350/.380. If only.  Of the professional projection models, Steamer takes home the victory, seeing Tejada hitting a "meager" .257/.319/.336.  I think we all would have taken that.
We were all hoping for big things out of Tejada this year, and he clearly fell far short of those expectations.  His status as a part of the future of the Mets is up in the air, as he seems to have fallen out of favor with management.
2014 is going to be a make-or-break year for Tejada, assuming he even still has his job.
Joe Vasile is a play-by-play announcer for Widener Pride football and host of "Ball Four" on WTSR in Trenton.  Follow him on Twitter at @JoeVasilePBP.