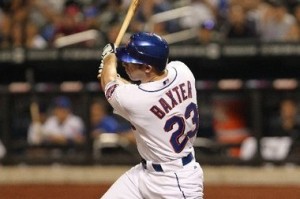 We've been taking a look back at our writers' preseason projections for different players who we thought would play a key role in the 2013 Mets season.  Today's player is Mike Baxter.  Here's what we thought Baxter would do this season:
PA: 313
AVG: .265
OBP: .350
SLG: .410
HR: 6
RBI: 35
HBP: 6
Baxter was a big contributor to the 2012 team, and we expected his role to expand in 2013 with a bad outfield and barring another freak injury.  How did we do?
PA: 155
Best: Bryan Mcwilliam- 180
Worst: Steve Rogers- 510
AVG: .189
Best: Doug Parker- .230
Worst: Charlie Hangley- .286
OBP: .303
Best: Charlie Hangley- .321
Worst: Brian Joura- .371
SLG: .250
Best: Joe Vasile- .390
Worst: Brian Joura- .430
HR: 0
Best: Doug Parker- 2
Worst: Charlie Hangley- 12
RBIs: 4
Best: Mike Koehler- 15
Worst: Steve Rogers- 65
HBP: 5
Best: Mike Koehler- 5
Worst: Charlie Hangley & Brian Joura- 9
It was a wildly disappointing season for Baxter, and the only category that he didn't come under even our most modest expectations was getting hit by pitches.
Baxter was so bad that he toiled in AAA for most of the season, hitting well in a friendly environment in Las Vegas.
What 2013 seemed to demonstrate is that Baxter is best suited for a pinch-hitting role, and despite his great on base ability, starting every day is simply not an option going forward.
I would not be surprised to see Baxter let go this offseason, as the team pursues other options in the outfield.  Even just one more outfielder signed will signal the end of Mike from Whitestone's career in Flushing, since there would be no room for him in a world with Juan Lagares, Matt den Dekker, Eric Young Jr., Lucas Duda, and a free-agent-to-be-named-later (but probably named Shin-Soo Choo or Jacoby Ellsbury).
For as likeable a guy as Baxter is, there simply isn't a place on a contender for a corner outfielder who hits .190/.300/.250 with no speed.
He'll surely catch on somewhere, and when he does, I'll be rooting for him.
Joe Vasile is a play-by-play announcer for Widener Pride football and host of "Ball Four" on WTSR in Trenton. Follow him on Twitter at @JoeVasilePBP.