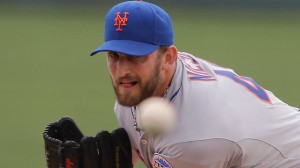 Back in January of this year, the Mets360 crew set out to predict the 2013 statistical performance of key personnel. In this entry in our ongoing recap, we take a look back at what we expected of Jonathon Niese and what he delivered.
We were by and large a sanguine bunch when it came to Niese, as these crowdsourced predictions will attest:
IP: 190.2
ERA: 3.60
K: 158
BB: 53
WHIP: 1.215
Here's how the Mets' Opening Day starter actually fared during an injury-pocked campaign, along with our best and worst projections in each category:
IP: 143
Best: 147.1 (McWilliam)
Worst: 210 (Joura)
ERA: 3.71
Best: 3.70 (Parker, Walendin)
Worst: 4.69 (McWilliam)
K: 105
Best: 130 (McWilliam)
Worst: 183 (Groveman)
BB: 48
Best: 48 (Rogan)
Worst: 73 (Hangley)

WHIP: 1.441
Best: 1.400 (McWilliam)
Worst: 1.166 (Rogan)
Hard to say which of us shanked these Niese projections the most, but I'll go ahead and award McWilliam closest-to-the-pin on this one, even though he was off on ERA by almost a full run.
Niese was coming off an extremely strong 2012, and 2013 saw him fall back to his 2010/2011 levels in a number of important statistical categories (SO/BB, WHIP, ERA+). However, injuries definitely seemed to be a factor in his performance, and he finished the season in good form, pitching to a solid 3.00 ERA in his final 66 innings.
Niese is signed through 2018, and there is every indication that he will be a key left-handed arm at the back of the rotation throughout the length of his deal. Over at baseball-reference.com, John Lackey is listed as one of the comparable pitchers at age 26, and I do not think it is a stretch to expect Niese to follow a similar career trajectory and post his best seasons between the ages of 27 and 30.
Of course, there are other players on that list of comparables whose careers did not play out as well as Lackey's, but I don't anticipate seeing Niese fall off a Schourekian cliff.
Bonus fun fact: Niese is the only player in baseball history with the first name "Jonathon"…