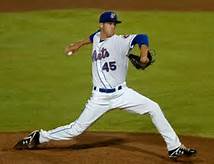 Zack Wheeler's rookie campaign had its ups and downs, but most importantly, he was able to finish on a strong note – getting better each start before hitting a wall in September.
Before the season, the collective writers of Mets 360 projected Wheeler's stats to look something like this:
Innings Pitched: 88.1
Earned Run Average: 3.80
Strikeouts: 81
Walks: 36
We also projected the month of Wheeler's call up, with Dan Stack, Doug Parker, and Jim O'Malley correctly predicting June.  Here's how we did with the rest:
Wheeler IP: 100.0
Closest: Stack – 98
Furthest: Steve Rogers – 150
Wheeler ERA: 3.42
Closest: Parker – 3.50
Furthest: Joe Vasile – 4.25
Wheeler Ks: 84
Closest: O'Malley – 70
Furthest: Rogers – 120
Wheeler BBs: 46
Closest: Mike Koehler – 45
Furthest: Bryan Mcwilliam – 24
Projecting Wheeler's stat line for the 2013 season was perhaps the most difficult task the writers were given in the projection series.  In particular, our predictions for the accumulation stats were all over the place, mostly owing to our differing opinions on when Wheeler would be called up.  The range of strikeouts predicted was 49 from Mcwilliam to 120 by Rogers.
Speaking of Mr. Rogers, he might have to take the Golden Metsie for Most Interesting Prediction.  He saw Wheeler getting called up in July, yet still pitching 150 innings.  I'm not even sure that that's entirely possible to have.
Either way, Wheeler's rookie campaign exceeded in many ways the relatively high expectations we had for it.  He didn't necessarily live up to the "better than Harvey" tag placed upon him by many scouts, but the potential was certainly there.
If Wheeler can gain greater control and command of his pitches (yes, they're different things), the sky is his limit.
With the improvements that he was able to make in-season, there is no reason to believe that Wheeler can't take that extra step over the next few years and become the ace that he has the potential to be.
Joe Vasile is a play-by-play announcer for Widener Pride football and host of "Ball Four" on WTSR in Trenton.  Follow Joe on Twitter at @JoeVasilePBP.