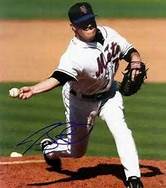 Almost five years ago, the Mets were involved in a three team trade with Seattle and Cleveland that helped land relief pitchers JJ Putz and Sean Green, along with outfielder Jeremy Reed.   It was a deal the Mets needed to make, after signing Fernando Rodriguez, to strengthen a bullpen which failed them continuously the previous season.  Now with the team looking to fortify some roster spots for the 2014 campaign, it might be in the team's best interest to revisit that very trade for some help.  There are three players in that deal who can bolster the Mets roster immediately.
In the first part of that trade, Seattle received from the Mets Aaron Heilman, Jason Vargas, Endy Chavez and three minor leaguers, one of which was current Red Sox Mike Carp.  The trade was completed when Cleveland sent Seattle Franklin Gutierrez in return for Luis Valbuena and Joe Smith via the Mets.  So now maybe it's time to bring Aaron Heilman back…just kidding!
Now that Matt Harvey is officially ruled out for the duration of next season after undergoing Tommy John surgery, the Mets have a need for a starting pitcher.  Jonathan Niese, Dillon Gee, and Zach Wheeler have a hold on three spots, but the other two are up for grabs.  As the roster is constructed today, it would be safe to say Jenrry Mejia and Rafael Montero would be favorites to fill out the rotation.  That would make 60 percent of the rotation with 182.3 total career innings combined.  If you look at that prospective rotation as whole, you see two pitchers with injury history in Niese and Gee, while the other three are raw, inexperienced, and most likely to have innings caps on their seasons.  It would be a rational decision to sign or trade for a veteran starting pitching to log numerous innings.
Enter Jason Vargas.  The 30-year-old free agent starting pitcher has averaged over 190 innings the past four seasons with Seattle and Anaheim.  In that same span, he's had an ERA of 3.97 while winning 41 games for losing teams.  He's not a front-line starter by any means, but he fits the bill for what the Mets should be looking for in a starter…INNINGS!   Vargas will certainly be looking for a multiyear contract in his first foray into free agency – last year his salary was $8.5 million.  Even though the Mets have a depth of good, young pitching potential in the organization, it would be wise to consider a two-or-three-year contract to a veteran, middle of the rotation pitcher to bridge the transition – especially with no guarantees in Harvey's recovery.   Vargas' demands may be more than Sandy Alderson is willing to dole out, but he should at least kick the tires on the former Met.
Then there's Franklin Gutierrez, a player surprisingly you don't hear about in rumors, even from the bargain hunter fan's perspective.  Perhaps the reason is for his propensity for being injured which has caused him to play in only 173 games the past three seasons.  The Mariners have a team option on him for 2014 for $7.5 million, but if they decide to move on, perhaps the Mets could move in on this once, promising outfielder. He's four years removed from his best season in 2009, when he batted .283 with 18 HR and 70 RBIs.  Gutierrez was also one of the premier defensive outfielders in the game, with the ability to play all three spots.  It's a low risk, high reward scenario in the condition the Mets give him a moderate contract with incentives.  It's been reported that Gutierrez has a genetic disorder that causes inflammation and arthritic pain in his joints and other parts of his body.  He has to be motivated to resurrect his career; maybe it could be with Mets for the right price.
Lastly, there's Joe Smith. I've written about signing him before and still think he would be a good, under the radar signing for the Mets.  He was one of the few reliable relievers on those collapsing Mets teams of 2007 and 2008, his first two seasons in the big leagues.  Since he's left, he's become a solid and consistent contributor for Cleveland.  The past three seasons with Cleveland, Smith has averaged 65.2 IP with a 2.42 ERA, while letting 27 percent of inherited runners to score, which was the league average this year.  He's a sinkerball pitcher, yielding only 17 HR in his seven year career while still averaging 7.6 SO/9.  The decision to sign Smith or any middle reliever outside the organization will be based on whether the Mets want to go forward with many of the relievers from last year's squad.  LaTroy Hawkins and Scott Atchison's return will determine a lot about the bullpen makeup in regards to veterans, but Smith is worth a look too.
The Mets top priority this upcoming offseason is finding a few players to help generate more runs from the everyday lineup.   Trades and signings are going to be more prevalent this season than any other time in Alderson's tenure.  It will be interesting to see if any of the aforementioned players surface in front office discussions this offseason;  bringing back memories of a much forgotten trade.
*****************************************************************************
Have something to say? Head over the the Mets360 Fourms to make your voice heard!
*****************************************************************************