Earlier today, Scott Ferguson wrote an article championing Eric Young as one of the best options around to be the Mets' leadoff hitter in 2014. In the article he came up with a stat – Scoring Position Percentage – that showed Young to be among the best in the game at getting himself in scoring position or scoring himself on a homer. It was a really good piece because it went against the conventional wisdom of Young being a poor leadoff guy because of his lackluster OBP.
Young scored well in the metric because of his league-leading SB total. In 2013, Young swiped 46 bases. It's reasonable to think that he would steal even more next year if he's the team's leadoff hitter because he ran more often once he joined the Mets plus he would end up with more playing time in 2014 as a full-time starter beginning on Opening Day. A 60-SB season is very realistic if Young leads off and plays 140 or more games in 2014.
So, the question is: Does Young's outstanding SB ability make up for his poor OBP?
There's a couple of ways to look at this question. First, let's look at fast guys with poor OBP. If we set our parameters as leadoff hitters only with an OBP of below .331 with 40 or more SB and compare that to leadoff hitters with 10 or fewer SB and OBP of .350 and above, what do we find?
The hi-steals/low OBP group has just three players who scored over 100 runs in a year while the lo-steals/hi OBP have 54 seasons of 100 or more runs scored. Jack Tobin scored 132 runs in 1921 when he had a .396 OBP and 7 SB. Pete Rose had 130 runs in 1976 when he had a .404 OBP and 9 SB. Meanwhile, the best runs scored total for the hi-SB/low-OBP group was the 112 scored by Lou Brock in 1967 when he swiped 52 bases and had a .329 OBP.
Now, let's look at it from a team perspective. In 2013, the Reds had the highest OBP from their leadoff hitter and they finished third in overall runs scored. The Mets had the highest SB total from their leadoff hitter and they finished 11th in runs scored. The teams with the worst OBP from their leadoff spot were the Mets and Marlins and they finished 11th and 15th, respectively, in runs scored. The Cardinals had the fewest SB from their leadoff spot and finished second in the league in runs scored, thanks in no small part to being second in OBP from the leadoff spot.
Of course, there are other factors at work here. It's hard for Eric Young to score runs if the hitters behind him aren't doing their jobs. So there has to be a way to isolate a player from his teammates and figure out ways to quantify what a specific play is worth. Another challenge is that not all events are created equally. A single with the bases loaded and two outs in a tie game in the bottom of the ninth inning is worth more than a single to lead off the game.
Linear weights does both of these things for us. As Shawn Domagal-Goldman of Bleed Cubbie Blue wrote:
"It takes a weighted average of the value of each event over all the game states. The weighted average allows the game states that occur more often to count more often in the average. This is necessary because, for example, the game state 'nobody on, nobody out' will occur much more often than the game state 'bases loaded, 2 out.' The former state is guaranteed to occur at least 17 times a game; any game in which the latter game state occurs 17 times would be long remembered for its excitement."
Also, linear weights are incorporated into wOBA and you can find the values of all events that go into it at this FG page. You can see that the value of a single in 2013 was .888, the value of a double was 1.271, the value of a triple was 1.616 and the value of a HR was 2.101 this past year. The value of a SB is .200 and the cost of a CS is .384. In 2013 a CS on average was nearly twice as damaging as a SB was helpful.
A double is better than a single and a SB and nothing can beat the value, on average, of a HR.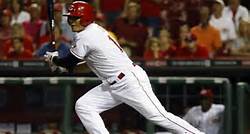 In 2013 Young had a .288 wOBA compared to a .344 mark for Jacoby Ellsbury, a .347 rate for Dexter Fowler and a .393 wOBA for Shin-Soo Choo.
Still, some people might think that while average rates are all well and good that they cannot possibly accurately account for the specific situations faced by a batter/runner in any given season. That's certainly true. It's possible that a player might have a disproportionate amount of his chances (or even successes) in high-leverage situations.
And for that we can turn to WPA. As you know, WPA stands for Win Probability Added which measures how individual players affect their team's win expectancy on a per-play basis. A lot of people do not like WPA because it is a backwards-looking stat. It tells you what happened, not what's likely to happen in the future. But that's okay. If a player came through in high-leverage situations, WPA will tell you that, which makes it perfect for what we want now. Here's how the guys we looked at in wOBA did in WPA:
Fowler – 2.13
Ellsbury – 2.25
Choo – 5.45
Young – (-0.46)
For MLB regulars, here's a quick breakdown on season-long WPA scores:
| Rating | WPA |
| --- | --- |
| Excellent | +6.0 |
| Great | +3.0 |
| Above Average | +2.0 |
| Average | +1.0 |
| Below Average | 0.0 |
| Poor | -1.0 |
| Awful | -3.0 |
The bottom line is that while Young is an exciting player his overall contribution to winning falls far short of other potential options the Mets could acquire for the the OF/leadoff spot. It was a good trade getting him for Collin McHugh during the 2013 season. Hopefully Sandy Alderson can further help the club by getting a superior player to replace Young in the lineup for the 2014 season.