| Jays Trade | Dodgers Trade | Free Agency | Bit of Everything |
| --- | --- | --- | --- |
| Eric Young Jr., LF | Eric Young Jr., LF | Shin-Soo Choo, RF | Eric Young Jr., 2B |
| Jose Reyes, SS | Juan Lagares, CF | Daniel Murphy, 2B | David Wright, 3B |
| David Wright, 3B | Andre Ethier, RF | David Wright, 3B | Giancarlo Stanton, RF |
| Jose Bautista, RF | David Wright, 3B | Ike Davis, 1B | Nelson Cruz, LF |
| Daniel Murphy, 2B | Ike Davis, 1B | Johnny Peralta, SS | Daniel Murphy, 1B |
| Travis d'Arnaud, C | Stephen Drew, SS | Jason Kubel, LF | Yunel Escobar, SS |
| Ike Davis, 1B | Wilmer Flores, 2B | Travis d'Arnaud, C | Travis d'Arnaud, C |
| Juan Lagares, CF | Travis d'Arnaud, C | Juan Lagares, CF | Juan Lagares, CF |
At this point in the offseason, speculation has gone wild. Which… in many senses means that analysts and baseball pundits are making statements and speculations akin to an unaccompanied coed in Cabo San Lucas during Spring Break. They might have fun, but come the morning, they might also regret what they did, said and where they've woken up. I've heard every combination of suggestion for the Mets and it's at the point where I've even begun speculating on the speculation.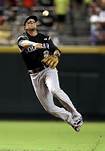 Will the Dodgers trade from their massive depth? Will the Mets be able to afford Choo? Can Sandy Alderson work another spell on his friends North of the border? I've heard names like Ryan Braun, Troy Tulowitzki, Carlos Beltran, Asdrubal Cabrera, Carlos Gonzalez, Matt Kemp and Elvis Andrus. In the end… the Mets have options. Sandy Alderson can look at his team's future and actually has the luxury of options.
Remember the 2009 offseason? The Mets needed to add an offensive outfielder and the options were: A VERY expensive Matt Holliday or a STILL expensive Jason Bay? We all know that Omar Minaya made the wrong choice, ending his tenure with the Mets and handcuffing the Mets prior to the Wilpon's legal and financial woes.
Alderson has money to spend (between $30 and $40 Mil depending on your sources) and he has prospects to trade (Noah Syndergaard, Rafael Montero, Wilmer Flores, Jacob deGrom etc…). He has a bunch of needs (Outfield, Firstbase, Shortstop and Pitching) but he has the means to fix the ship on his terms. The caveat is that as the offseason drags on, these options begin to vanish. Alderson needs to make something happen by the end of the Winter Meetings (December 9th-12th) or the Mets will be looking at having that Devil's choice once more. Who knows… maybe this time we wind up with Holliday and a couple championships and someone else gets the washed up Canadian outfielder.
If I'm looking at a 2014 team that has around a $100 Mil payroll, a 1-6 that is among the better ones in the division, and starting pitchers who weren't total bargain basement deals I think I'll call it a win. I'm hoping that if the Mets can reach the playoffs, they'll be looking at a total payroll back above $100 Mil beginning in 2015. Just to start the speculation early: Billy Butler, Asdrubal Cabrera, Hanley Ramirez, Jed Lowrie, Chase Headley, Pablo Sandoval, Brett Gardner, Colby Rasmus and Nick Markakis look to be the offensive free agents to be had.