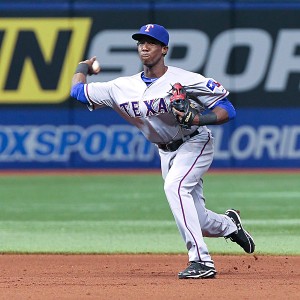 The main priority for the Mets this offseason is to land a few bats that can help generate more runs for a lackluster offense.  David Wright needs protection in the lineup, and acquiring an outfielder or two to fill the needs might suffice.  Shortstop has also emerged as an unknown position for next year, at least from a fan's perspective.  Ruben Tejada's stronghold of the position is no longer assured and outside help may be imminent.
Anyone who scrolls through the list of impending free agent shortstops can conclude that Jhonny Peralta and Stephen Drew will draw the most interest, thus costing a prospective suitor a higher cost of contract.  After those two options, there are only players deemed utility players.  "So what about the trade market?"  says the eager Mets fan. These days, it's all about how much you are willing to give up as opposed to who's available, especially when it comes to a team parting with one of its "blue chips."
The GM/Owners meetings will be held next week in Orlando and I'm sure for most front office executives this becomes an optimal opportunity to start trade discussions.  In the case of the Texas Rangers, a trade could be on the horizon due to a logjam in the middle infield.   Elvis Andrus and Ian Kinsler have manned the middle of the Texas diamond formidably over the past five years.  They have been key contributors to the team's back-to-back American League Championships of 2010 and 2011, as well as their playoff runs the past two seasons.  In May of last year, general manager Jon Daniels summoned the call-up of 20 year old shortstop and Baseball America and MLB.com's number one ranked prospect, Jurickson Profar.  The Curacao native, not having a positioned secure or permanently available to him, was forced to split time playing shortstop, second base, third base, and even outfield.  Profar, young but polished early in his development, would seem to be a leading candidate to land a starting job in 2014; but where will he play?
Currently the team has starting shortstop Andrus locked up until 2022. He has an eight year/$118 million extension that will kick start in 2015.  Second baseman Kinsler still has four years and $57 million left on his deal.  If Profar is to be given a position that will maximize his projected value on the team defensively, one of the incumbents will have to either change positions or change teams; the salaries attached to these two fine players may see the latter as an impossible option, at least in regards to the Mets.  So will the Rangers part with the prized jewel of their farm system?
If the Mets are going to land a prospect like Profar they would have to convince Texas that they can give them equal value back in an area of need for them.  Although Texas has re-signed Geovany Soto, catcher perhaps can be a need, now that A.J. Pierzynski has become a free agent.  Brian McCann has been rumored to be on the Rangers radar, but a top tier catcher like him will be in high demand. Outfield, like the Mets, is a need; especially since Nelson Cruz and David Murphy have hit the open market. If the Rangers are not sold on Mitch Moreland as a long term solution, they may be on the lookout for a first baseman too.  The starting rotation was a strong spot for the team in 2013, but they will be losing Matt Garza via free agency and could use a replacement.  So… what could the Mets offer?
The Mets organizational depth is starting pitching and fans and media feel that their number two ranked pitching prospect, Rafael Montero, would most likely be the top trade bait once it is presumed Zack Wheeler and top prospect Noah Syndergaard are "untradeable."   Ike Davis or Lucas Duda packaged with Montero and Tejada would seem like fair value to Mets fans considering that Texas is offering only potential, albeit very promising.  Other names like Kevin Plawecki, Jenrry Mejia, and Brandon Nimmo could be trade chips added or entertained if the Mets become serious about acquiring Profar.  There's also one more thing to consider.
Per MLB.com's top prospect list, Texas has a shortstop and second baseman among their top three.  Luis Sardinas and Rougned Odor are currently manning the middle infield in Double A Frisco and maturing rapidly.  Both Sardinas and Odor are listed amongst the Top 100 prospects in MLB.  With these two budding youngsters coming up fast and two high priced veterans locked down under contract, shortstop and second base is at an overflow for this Rangers team.  Profar by default becomes available at the right price.  The Mets will have to decide how much they are willing to give up in order for a trade to be hashed out.  To give up Wheeler or Syndergaard, the Mets would have to feel that Profar could be a star someday.   If Texas feels that their need to fill other positions is of higher priority than keeping their surplus of middle infielders, than the Mets will need to stay connected with Daniels and the front office and get a deal done.  Perhaps Travis d'Arnaud, Daniel Murphy, or Juan Lagares will have to be entered into the pool of players the Mets are willing to trade.  A deal is there to be had if the two teams can find common ground; opening the door to a new era at shortstop for Mets fans.
*********************************************************************************************
Have an opinion you want to share?  Head on over to the Mets 360 forums and have your voice be heard!
*********************************************************************************************