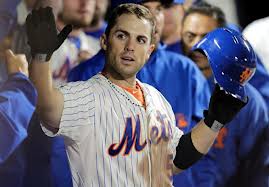 The 2014 offseason is focused on Free Agents, Trades, Prospects and Speculation.  Will the Mets sign Shin-Soo Choo, trade for Carlos Gonzalez, deal Travis d'Arnaud or not.  We forget somehow that last year at this time the big story was David Wright.  Would Wright re-sign with the Mets? Would he become the captain and cornerstone this team so desperately needed?  Could he be the leader for the Mets the way a certain Derek Jeter had been for the Yankees.  The following is nearly a year in David Wright headlines that should answer these questions:
10/7 – David Wright nominated for 2013 Hand Aaron Award
9/26 – David Wright gets hit in head, leaves game
9/20 – David Wright doesn't care about third place, activated from DL
9/16 – David Wright nominated for Roberto Clemente Award
9/15 – David Wright objects to shutdown, if he's healthy
9/12 – David Wright 'felt great,' still plans to return in 2013
8/29 – David Wright will not shut it down, heading to PSL
8/16 – David Wright still in New York, receiving treatment
8/10 – David Wright receiving treatment, return unclear in 2013
8/2 – David Wright leaves game with right hamstring strain
7/20 – David Wright is tired, Collins is monitoring his workload
7/16 – David Wright says Carlos Beltran was 'under appreciated'
6/28 – David Wright held a players-only meeting
6/24 – David Wright is batting .405 during his last 17 games
6/19 – David Wright picks up his 1,500th career hit
5/25 – David Wright has no regrets about re-signing with the Mets
3/26 – David Wright plays in minor league game today
3/22 – David Wright's message to Met fans, after being named captain
3/17 – David Wright back in Port St. Lucie
3/13 – David Wright shines again in WBC
3/2 – David Wright departs for WBC today
2/5 – David Wright pitched Michael Bourn on joining the Mets
1/12 – David Wright to report to                PSL early, which is routine for him
11/30 – Mets and David Wright agree on contract extension
* Headlines Courtesy of Metsblog.com                                                                                   
The Mets paid Wright a lot of money to stay in Flushing.  That being said, the Mets likely got the bargain here.  Wright could have left Queens for more money and a better chance of winning.  He could have forced Alderson into trading him.  He didn't.  He signed and has been 100% of the All-Around force that the Mets needed him to be.
He went to the World Baseball Classic and earned the moniker, "Captain America".  He came back from significant injury THREE times in the season,   stood up for current, past and future members of his team, held his teammates accountable and he led by example.  Wright proved in 2013 that his has at least as many intangibles as Jeter does.  He also proved something else.
You cannot win with only intangibles.  Jeter had more than his un-quantifiable qualities backing him up through the recent Dynastic movement of the Yankees.  The Mets need to give Wright the help that Jeter had with Bernie Williams, Hideki Matsui, Roger Clemens etc… the time is now.  You have your captain, give him a crew.