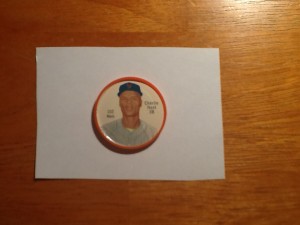 Pictured is a 1962 Charlie Neal (3B) Salada-Junket Coin.
These half-dollar size plastic coins were issued in packages of Salada Tea and Junket Pudding mix boxes. The paper photos fit securely in the team's orange color coded plastic coin.
Originally, the set was intended to be only 180 coins but it was enlarged to include the New York Met and Houston Colt .45 expansion team players. The set eventually included 221 standard coins. Also produced, were team shields where you could place and display your favorite team's players.
There are a lot of variations within the set. For instance, some players have a coin with them wearing red shirt buttons and a second version of them wearing white shirt buttons.
This Neal coin is in itself a variation. It is coin number 102(b). Coin 102(a) is Neal as a Los Angeles Dodger. The Neal Mets coin is worth about $4.00 in mint condition. His Dodger coin variation in mint condition, however, is worth about $12.00. This proves that the Dodgers are worth more than the Mets (I can hear Fred Wilpon jumping up and yelling, "See? I knew it! I told you so!").
Other Mets in the 1962 set are:
123(b) – Don Zimmer
146(b) – Gil Hodges
158(b) – Gus Bell
176(b) – Bobby Gene Smith
181 – Hobie Landrith
183 – Felix Mantilla
185 – Bob Miller
189 – Roger Craig
192 – John DeMerit
The coins are all "head shots" except for the Landrith one which is a really neat action shot of him getting ready to fire the ball to an infielder.
A complete set of all 265 coin variations including shirt buttons, team changes, type variations etc. might run a collector around $4,500.00. That wouldn't include the display shields.
I think I'll just stick with acquiring the rest of the "Metsies".