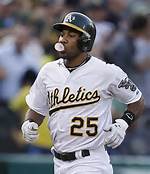 On Friday, the Mets signed free-agent outfielder Chris Young to a one year, $7.25 million deal. The signing was met with some criticism. The Mets' fanbase felt as though Sandy Alderson wasted too much money on a player who was below average last year. Given that the Mets reportedly only have between $30-40 million dollars to spend this offseason, this is a valid argument. However, the Chris Young deal is a good move, but it should have for two years, not one.
There are a lot of things that make Chris Young not that sexy. Last year he hit a line of .200/.280/.379, and put up a below-average defense. He also couldn't anything a right handed pitcher threw at him — even if he had a boat paddle — as he hit an abysmal .193 against righties. However, as bad as his 2013 season was, it's reasonable to assume that Young will perform better in 2014. He was extremely unlucky in 2013 with a BABIP of .237, which is likely why his batting average was chomping at the Mendoza line.
Young has never been a player that has produced high BABIPs, but other than the 2013 season, he had never produced a BABIP below .260. It's reasonable to infer that his BABIP will be higher in 2014, and he will regress back to the mean. When Young has been able to sustain a batting average of .230 or higher he's been at least league average at the plate, and has even provided a little bit of power. As far as his defense goes, it's difficult to say whether he'll ever be an elite defensive fielder again. We could assume that his below-average defense last year was just an outlier, and that he should continue to defend at an elite level. Then again, he is 30 years old, and his range could be declining since he is older.
Young should perform well this season for the Mets. It's not too much of stretch to say that he will be worth 2.0-2.5 WAR. He's done that in the past, and with some regression back to the mean he will probably do it again. The main problem with the Young signing is that Alderson gave him a short-term deal with a higher average annual value. Alderson probably could have lowered the average annual value if he had increased the duration to two years as opposed to one. Rumors have it that Nate McLouth — who has a similar skill set to Young's — is looking for a deal in the range of $10-11 million over two years. Alderson probably could have made that offer to Young.
We don't really know how 2014 will shake out. Alderson has a to find a lot of value to account for the fact that Matt Harvey is not going to be available. Some of the acquisitions he makes now may not have an impact until 2015. That's why Young should have been signed for two years, so that if the pieces don't come together now they will at least have some base for 2015. If Young didn't want a longer deal with a lower average annual value, then McLouth would have been a better all around choice than Young.