1981 DONRUSS MOOKIE WILSON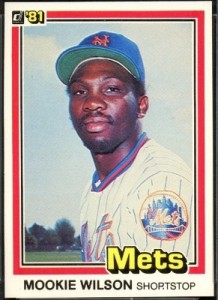 From the 1981 inaugural Donruss set is card number 575; introducing shortstop Mookie Wilson. It is worth about .30 cents.
In 1981, Wilson appeared in 92 games in the outfield. He hit three home runs and knocked in 14 runs. He stole 24 bases and hit .271. He finished seventh in the Rookie-of-the-Year voting. Hubie Brooks, his teammate, finished third. Both finished behind baseball's newest pitching sensation, Fernando Valenzuela.
In 12 seasons in the major leagues, comprising 1,273 games, Wilson never logged a game in at shortstop.
This is a 605 card set; it was put out by the Donruss Company of Memphis, Tennessee. The most expensive cards in set are Nolan Ryan, Tim Raines, Pete Rose, Mike Schmidt, and George Brett. Another interesting Mets card in the set is the Ray Burris card. He is pictured wearing a Chicago Cubs uniform even though he had pitched four games for the Mets in 1979 and 29 games for them in 1980. By 1981, Burris was pitching for the Montreal Expos.