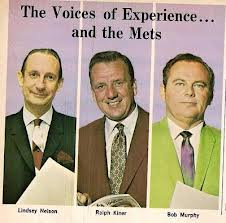 Being in a major media market the Mets have always been fairly lucky to have fairly good broadcasters doing color and play by play of their games.  Thought it might be fun to compare the classic trio of Lindsey Nelson, Bob Murphy and Ralph Kiner with today's trio of leads: Gary Cohen, Ron Darling and Keith Hernandez.
Lindsey Nelson was the first lead broadcaster for the Mets.  He did Mets radio and TV play-by-play for 17 seasons.  I remember him most for his strange assortment of colored jackets he wore on the air.  Still he was a very experience announcer who really knew his profession.  He wasn't an ex-player like Ralph Kiner or didn't have the smooth voice of Bob Murphy but he was the glue of the Mets broadcasts from '62 through '78.
Bob Murphy had a golden voice, perhaps the best voice to ever broadcast for the Mets.  Murphy worked Mets TV from 1962 to 1981 and then just did radio until 2003.  Murphy's is still the voice I remember most from this era.   He made listening to the Mets games on the radio a pleasure.
Ralph Kiner has been part of the Mets broadcast crew since the start.  Kiner was the only player amongst the original crew of broadcasters.  Thus Kiner brought his own unique take on the game.  (Sometimes we forget what a great player Kiner was having led the NL in home runs seven straight years.  If it wasn't for a bad back that forced him to retire at 32 Kiner would have been a Hall of Famer.)  Sure, today Kiner may now be more well known for his "Ralphisms" like calling Gary Carter, Gary Cooper, but that doesn't detract from the fact that he's been making Mets games more colorful since the start of the franchise.  Be it doing color analysis, or interviewing the star of the game on Kiner's Korner, or just talking about old days baseball, Ralph Kiner is a HUGE part of Mets history.  The broadcast booths at Citi Field and Shea have been named after him.
Gary Cohen started on Mets radio in 1989 and moved to TV doing play by play for SNY since 2006.  He's the voice of Todd Pratt's classic home run.  He's the voice of "grand slam single".   Gary has a great voice for the game and I don't think there's anything about the Mets he doesn't know.   He's kind of like the modern day combination of Nelson (without the assortment of jackets) and Murphy.
Ron Darling has been color commentator for the SNY and the Mets since 2006.  Darling, a Yale man and of course a member of the '86 Mets, has been a fan favorite on and off the field.  He is an intellectual broadcaster.  He has won an Emmy for "best sports analyst".  He does national games for TBS.   Darling is smooth on and off the screen.
Keith Hernandez, another '86 Met, has been on Mets TV as a color commentator since 2002 and boy what color he brings.  He was both a great player and a guy who had been on Seinfeld.  He was meant to be a Mets broadcaster.  Keith has never been short of opinions and never been quiet about them.  For instance, the Padres game in 2006 when Keith lamented the fact that the Padres had a female (a massage therapist) in the dugout.  His quote was: "Who is the girl in the dugout, with the long hair?  What's going on here?  You have got to be kidding me…"   I remember watching that game thinking, "Uh oh, Keith's in trouble but man I give him credit for speaking his mind."  That's the thing about Keith he always speaks his mind (for better or for worse.)  He is the yang to Darlings quiet yin.   This yin and yang with Cohen in the middle is what makes Mets broadcasts fun.
So which team was better, the original or the current?  It doesn't really matter. Both teams have their own unique flare and strengths.  Looking back at it now I think Mets fans are lucky that while our team may not always be top notch at least the guys broadcasting the games are.