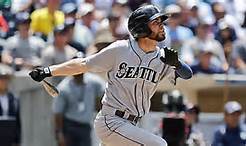 While every baseball fan across America sits in complete shock about the Robinson Cano signing, Mets fans should care more about the excess infielders in Seattle: Nick Franklin and Brad Miller. Before the signing, Miller and Franklin were slated to be the middle infield for the future and both had above-average power with pretty solid defensive skills- Miller having the obvious upper hand with the glove. During the season, Franklin was moved to the right side of the infield because he was clearly more solid on second. Miller was slated as the starting shortstop by the end of the season and actually had a good season. Franklin and Miller are both great options to slide in at shortstop for next season and the Mets shouldn't have a problem landing one of the two.
Franklin is clearly the player that the Mariners covet and is probably the one with more raw talent. He actually has been moved over to the right side of the infield for the most part. Franklin was one of the most hyped middle-infielders coming into the season and many consider his performance in 2013 to be a disappointment. Considering it was his rookie year and he hit a respectful 12 homers as switch hitter in the toughest pitchers park in the AL, it's actually relatively impressive. He put up very solid defensive numbers at second base with a 0.7 dWAR and a .975 Fielding Percentage. The Mets could theoretically grab him from the Mariners in exchange for a mid-level pitching prospect and an outfielder or first baseman.
Miller is very versatile due to his ability to play solid defense all over the infeld. He can put up very solid defensive numbers at all three positions while playing most of his time at shortstop. He posted very legitimate offensive numbers with a 110 OPS+ and eight homers and the biggest numbers that stood out was his .293/.345/.415 slash line at home. In many ways this is to the Mets' advantage; the Mariners have a similar stadium to the Mets and with the space comes more hits. He would probably require less to obtain than Franklin, but in the end he would be the better choice.
Both these players have a tremendous amount of talent with the glove and the bat and it would be a shame if they weren't even explored by Alderson. Clearly, Amed Rosario is the future at shortstop for the Mets and for the next 3-5 years the Mets need a good shortstop. Miller and Franklin are good options in the short-term and possibly long-term and won't require much return- making them good targets in the winter meetings and into January.