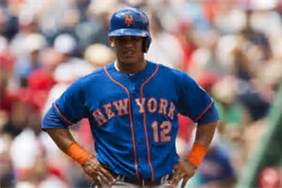 Did everyone know that Juan Lagares started out in the organization as a shortstop? Yes, I know that he hasn't played it since 2009 but could the New York Mets consider switching him back? There is some precedence to such a move; consider that the team played Hubie Brooks at shortstop and Howard Johnson at shortstop during the eighties. A young Kevin Mitchell also played some games at shortstop as well.
Could the team be better if Lagares moved out of the outfield and into the infield? Lagares is only 24 years old. He stands 6'1 and weighs 175 lbs.
Lagares has been with the organization since 2006 (when he was just 17). During his time with the team, he has logged in 192 games at shortstop during four minor league seasons. At this position, he has handled 930 chances, 282 putouts, and 579 assists. He has made 69 errors and turned 85 double plays. He has a minor-league career fielding percentage at shortstop of .926.
What do the Mets lose by considering a move like this? They lose their starting center fielder. Lagares displayed elite fielding skills last season. In 108 games, his fielding percentage in center last year was .982.
What do the Mets gain by considering a move like this? They gain options. The organization has already signed Chris Young to play an outfield spot and he is also a plus defender. This could also open up a spot in left field for Eric Young, Jr. who currently has no starting position. This would allow the Mets to start both Young, Jr. and Daniel Murphy. This would also mean they would not have to trade for or sign a free-agent shortstop or enter the 2014 season with either Reuben Tejada or Wilfredo Tovar at that position (note that I am a fan of Tovar though).
What other aspects are there to consider before beginning to even discuss this? The Mets currently have two players at first base: Lucas Duda and Ike Davis. A trade involving one of them could net another outfielder, a veteran pitcher, a back-up veteran catcher, or prospects. Chris Young is only signed to a one-year contract; the Mets do not have a long-term commitment and Young's exit would open center field back up. What is the current status of Lagares? He injured a knee during winter ball in the Dominican Republic and was in New York recently to have it checked out. The diagnosis: it was determined to be inflammation and the remedy is two weeks of rest. Prior to this injury, he was hitting .342 in 114 ABs.