In 1986, the Mets had three of the top 10 pitchers in the National League. Their fourth starter was Sid Fernandez. However, just because he was the Mets' fourth starter does not mean in any way, shape or form was Fernandez an SP#4. When looking to rate starters, you cannot look at team context, you have to do it in league context.
This may seem like semantics or splitting hairs but it becomes important to note when looking at trade possibilities down the road. If the Mets had decided to trade Fernandez at the conclusion of the 1986 season, they would not have called up teams and said, "Hey, want to acquire a fourth starter?" No, they would have marketed him as an SP#2, the level of performance he delivered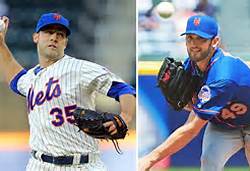 It's a similar situation with what the Mets face in 2014 and beyond with Dillon Gee, Jonathon Niese and others. If all goes according to plan, one of those will likely be the fourth-best starter for the Mets. But it's a mistake to consider either of these pitchers as merely back of the rotation guys.
The combination of their youth and their established level of performance makes them desirable pitchers. Now you can quote various metrics to buttress your point of view as to where they should rate. However, hopefully when you look at a variety of numbers – including IP, ERA, FIP, xFIP, WAR – you should walk away with the opinion that they would be an asset to most teams in the majors.
The injury to Matt Harvey delays the inevitable. At some point the Mets are going to trade one or more of their starting pitchers for a big bat. The injury may be a blessing in disguise. Last year Niese did not pitch a full season and it took half a year for Gee to straighten himself out as he rebounded from 2012's season-ending injury. If both pitchers are healthy and pitch a full season – never, ever a given – odds are they will improve on their numbers from 2013 and make them more desirable trade targets.
Look at how Gee and Niese finished last year. After the All-Star break last year, Gee posted a 2.74 ERA and Niese recorded a 2.82 ERA in his final 16 starts of the year – marks significantly better than their full season as a whole. Now we cannot pretend that April and May do not count because, of course, they do. But there are reasons to believe that their 2013 seasons are not indicative of their true-talent level. Ideally they both pitch a full season in 2014 and we can judge accordingly.
How much would a team be willing to give up to get a 28-year-old starting pitcher coming off a season where he threw 200 innings and put up a 3.20 ERA? Gee has seen his ERA go from 4.43 to 4.10 to 3.62 and last year he threw 199 IP. Niese is one year removed from a 3.40 ERA/190.1 IP season, so it's not completely far fetched to think that a 3.20 ERA/200 IP season is attainable for both.
That's essentially the season that Gio Gonzalez and Jordan Zimmermann put up last year.
Both Gonzalez and Zimmermann have multiple years at this level and even if Gee and Niese both hit the 3.20/200 marks speculated above, it would not mean they were in the same class as the Nationals' duo. However, when thinking about Gee and Niese, they are closer to that level than they are #5 starting pitchers.
An SP#5 would pitch around 95 innings and have an ERA in the 4.75 range. Last year Jake Westbrook threw 116.2 IP and had a 4.63 ERA – that's what an SP#5 looks like. Here's hoping that the Mets can avoid SP#5-type performances from their pitchers in 2014 and beyond, even if they trade some of their depth for a big bat.