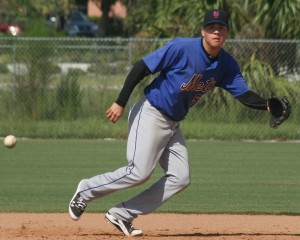 I, like many Mets fans, felt that shortstop was a position that needed to be filled outside of the organization this winter. As the winter progressed and the targets fell off of the board, it became apparent that Ruben Tejada would most likely be our opening day shortstop again when the 2014 season started (barring a last minute Stephen Drew signing). Then some news came across the internet that was surprising. The Mets said that Wilmer Flores would get time at shortstop this spring.
This information came as a bit of a shock to me. I mean, this was the player that had been tried at third base and second base in the minor leagues because he was reportedly too slow to play shortstop any longer. It was said multiple times that he'd grown out of the position and couldn't cover the ground he would need in order to be successful in the field. Even on message boards around the Mets blogosphere, anyone who brought up the concept of Flores playing shortstop was routinely derided as being foolish, or worse. Yet, now our organization was stating what we all thought was no longer a possibility, which made me think on it further.
So, again, barring a Drew signing, at this point the shortstop position appears to belong to Tejada, with a little spring training battle behind him between Omar Quintanilla and Wilfredo Tovar. But, like the Mets are saying, is it legitimate to throw Flores into the mix?
Let's look at it from a pro's and con's perspective.
Pro's:
Familiarity with the position – Flores was signed as a shortstop when he was 16 years old and made his debut in Kingsport at the position in 2008. Through 2011, Flores would only play shortstop, amassing 453 games at the position. Starting in 2012, the Mets transitioned Flores to second base and third base, along with a smattering of games at first base. Of the 681 games Flores played in the minor leagues, nearly 70% of them have been at shortstop. The bottom line is that it's not like Flores would be learning a new position. In fact, he would be transitioning back to a position that he's not only extremely familiar with, but that he's been playing since he was a kid.
Arm Strength – Flores has the arm to play shortstop. Whether he has the range is up for debate, but his arm strength isn't. Tejada has more range than Flores, but doesn't have the arm, which is why a lot of people have always felt Tejada is best suited to play second base.
Bat – The average shortstop in major league baseball last year, produced the following slash line, .255 AVG, .308 OBP and a .373 SLG. Along with that line, the average shortstop produced approximately 45 extra base hits per 162 games. Flores, throughout his minor league career, has a slash line of, .290 AVG, .331 OBP and a .430 SLG. He's also averaged, per 162 games, 56 extra base hits as a minor leaguer. Yes, that's including his big year in Las Vegas in 2013, but that big year is partially weighed down by the rest of his minor league career, making that slash line and those extra base hit numbers not out of this world for Flores to accomplish. If he were able to come anywhere near those numbers, (say .270, .315 OBP and .400 SLG with 50 extra base hits) he would still be an above average offensive shortstop, with the potential to be much better (minor league slash lines in 2012 of .300 AVG, .349 OBP and .479 SLG, and in 2013 of .321 AVG, .357 OBP and .531 SLG). Anywhere near his minor league slash lines from 2012 and 2013 would put him as one of the better offensive shortstops in baseball. I totally understand that he hasn't shown this in the major leagues and that his debut at the end of last year was disappointing, but some of that has to be tempered by the fact that the guy won't turn 23 until August (was playing part of last year as a 21 year old), was adjusting to the major leagues and was injured. In the end, the one thing no one has ever challenged about Flores is his potential with the bat and having a plus bat at shortstop is something not to turn away from in the major leagues.
Work Ethic – Unlike Tejada, no one has questioned Flores work ethic. He was repeatedly praised by the Mets last season for how hard he was working on his hitting. He repeatedly stated that he would learn any position he needed to learn to play in the major leagues. He attended the voluntary fitness program over the winter and, based upon pictures taken of Flores during that time, has successfully gotten himself trimmer and in better shape. Basically, Flores has done nothing but show that he wants to be in the major leagues, a positive that can't be said about Tejada.
Con's
Fielding – This has always been the biggest issue with Flores and there really is no way to get around it here. Flores appears to be too big and slow for shortstop and the numbers support that. Last season, the average major league shortstop had a .974 fielding percentage, with a range of 4.4. Flores career fielding numbers, over the 453 games he's played at shortstop is a fielding percentage of .959 and a range of 4.13. His highest ever fielding percentage at the position was .974 in 2009, but that was accompanied with a subpar range of 3.92. In his last full year as a shortstop in 2011, he posted a .966 fielding percentage and a career best (over the course of a full year) range of 4.38. I get that these are down and dirty fielding statistics, but unlike other shortstops that have tremendous range and have their fielding percentages effected by trying to make spectacular plays, that is by no means the description of Flores as a fielder. Basically, if Flores could combine his range from 2011 and his fielding percentage from 2009, he would be a league average fielder, which would be phenomenal. However, his career path doesn't show that as plausible. For his career at shortstop, he's a subpar defender, and even when he's been league average in one of the categories, he's been below average in the other. Hopefully his fitness regimen this past offseason could make him at least league average, but it's a total unknown.
Daniel Murphy – The other fielding problem Flores has is Murphy. Murphy has made himself into an adequate fielding second baseman, but no one is going to get him confused with someone like Brandon Phillips at the position. Murphy, for the most part, makes the plays that come to him, but he doesn't have good range at the position since he's naturally a corner infielder. This is a problem for Flores because Flores has a similar profile as a fielder. If the Mets had an elite defender at second base with excellent range, then some of Flores issues could be hidden. Since the Mets don't have that at second base, there really is no way to hide Flores flaws as a fielder.
Speed – Flores is a plodder. I get that he went to the fitness camp and hope that he has improved in at least his lateral quickness, which will help him in the field, but he's still extremely slow on the base paths. If Flores doesn't develop into the quality extra base hit man that scouts think he could become, then he won't even be a major leaguer due to his speed.
Unproven – The reality is that, despite all of his potential, Flores is totally unproven and the Mets have to ask themselves whether they want to start the season with an unknown at shortstop, considering the variety of other unknowns they have on the roster. This team already has a prospect lined up to be their everyday catcher in Travis d'Arnaud, from whom they really have no idea what level of production to expect, despite high hopes. They also have no idea what production to expect out of first base, center field and one of the corner outfield spots. Tejada at least has a track record of being a productive major leaguer, even if that didn't occur in 2013. Flores has no track record at the major league level to speak of and the Mets might view that as having too many unknown quantities in their everyday lineup to give him a chance at the shortstop position over a player who has at least some kind of a track record. It also isn't like Tejada is a 29 year old one year wonder. He's not going to turn 25 until October, so he's still young and could still have growth in front of him as a ballplayer.
So what's the conclusion to take from all of this? Well, I don't think one can be made right now. The only way any conclusion could be made is if Flores gets time at shortstop during spring training. If he does and he hits, he has to show that he's at least competent defensively. If he doesn't, his bat, no matter how good it is or could be, won't be enough to make up for the fact that he can't play the position. It would be great if he could, as he's a young hard worker who would fit right in with players like Murphy, David Wright and Curtis Granderson. He would also be a nice bridge player that could man shortstop for a few years while Amed Rosario and Gavin Cecchini develop, while also leaving the possibility open that Flores could slide over to another position of need. Basically, my opinion is, why not Flores at shortstop. The Mets are still trying to figure out who will be the core of this team. Maybe Flores will show us all in spring training that he can be part of that core as the Mets shortstop for the immediate future.