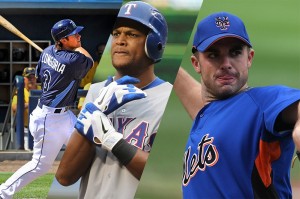 He was the face of last year's All-Star Game and nearly pitched in the 2008 mid-summer classic. He's as much the Franchise as the elite few before him. He's the captain of the team, and compared to a very famous captain who's calling it quits after 2014. By the way, he occasionally goes by Captain America.
He is New York Mets third baseman David Wright and this Major League Baseball superstar generated some discussion on MLB Network recently.
Navigating the boredom of yet another off-season, the MLB-backed channel released lists of the best players at each position right now. Not prospects, not all-time greats, players from 2013 entering 2014. Even players shifting positions, e.g. Joe Mauer moving to first from behind the plate, are not counted at their old home. They presented one top 10 list based on statistics – the Shredder, along with host Brian Kenny, retired ballplayer and Sabremetrics founding father Bill James.
MLB Network touched on the hot corner last weekend. Different names scattered the lower and middle rungs of the ladder, but aside from a stray vote for Cardinals infielder Matt Carpenter, the top three names on all four lists were identical: Wright, Adrian Beltre and Evan Longoria. They came in different orders – Kenny put the Mets captain first – but agreed No.1-3 were interchangeable.
Recapping their picks and examining some of the surprises a few days later, Kenny reiterated his disagreement with the Shredder not choosing Wright first.
But who is the very best third baseman right now? Maybe more numbers can shine some light on this quandary.
Longoria is the pride and joy of the Tampa Bay Rays, especially with ace David Price halfway out the door. The 28-year-old has six seasons under his belt and is routinely an MVP candidate. On offense, Longoria's career average slashline is .275/.357/.512, along with 8 stolen bases and 33 home runs each season. In the field he has a reputation for sucking up balls and firing the ball across the field. His career fielding percentage is 96.5 percent, but Baseball Info Solutions as his defensive runs saved (DRS) at 13 each season. He'll earn $7.5 million in 2014 with dramatic raises in the following years.
Beltre has the reputation of premiere defensive third baseman around the game, whether or not it's actually true. With 16 years under his belt, Beltre will turn 35 in April. His career average slashline is.282/.334/.478, while he steals 8 bases and hits 27 home runs every season. His fielding percentage comes in at 95.7 percent, although he played five years before DRS was measured. From 2003 on, Beltre averaged a 13 DRS. A veteran clubhouse leader and one of the game's good guys, this third baseman will earn $17 million in 2014.
Back in Flushing, the 31-year-old Wright has 10 seasons under his belt. Throughout his career, his average slashline is .301/.382/.506 to go along with 22 stolen bases and 26 home runs every year. While he also posses great defensive skills, Wright has been known to sometimes overthink the simpler plays and excel on incredible plays. Perhaps that's why his DRS is out of whack. His career average DRS is –1 per season, although he hasn't had a negative DRS since 2011. Twin –14 ratings in 2009 and 2010 outweigh a 12 in 2007 and 16 in 2012. Wright is something of an emerging clubhouse leader, officially named captain last season. He's set to pull in $20 million this season.
This is all well and good, but it doesn't answer our original predicament. Let's just simplify the whole matter and maybe something will emerge. When it comes to defense, stats give Beltre the nod among these elite defenders. Wright easily has the best batting average and on base percentage, a benefit of walking so much. Longoria gets the edge for home runs and slugging percentage, but only by the slightest. Wright does way more damage on the base paths, and comes in second to Beltre for veteran leadership. The Mets third baseman is also the most expensive player, but is four years younger than Beltre, three years older than Longoria and in his prime. The choice probably comes down to Beltre and Wright, and while Wright could be a convincing No. 1, the debate rages on.