The Mets are in Port St. Lucie working out and getting ready for the season.  The media and fans are eagerly waiting this season to see what the Mets have in store for the 2014 campaign.  When the Mets play their first spring training game on February 28, the games will be more about preparation than winning, but Sandy Alderson and Terry Collins will be watching closely.  Fans will watch a little more casually and here are a few things you might hear.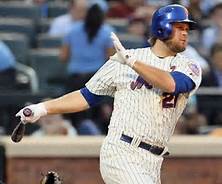 "Lucas Duda looks trimmer"
Well let's hope this observation translates to a better product on the field.  Duda's offseason workout regimen has been widely reported this offseason, and with Ike Davis remaining on the roster, he'll need to be up to the challenge to win the first base job.  It's hard to say what Terry Collins and Sandy Alderson will be focusing on from Duda outside of production, but trimming five to ten pounds  should provide some added flexibility…at least one would hope.  Despite starting 31 errorless games at first base last year, Duda still lacked the range most desire in a fielder. Power and consistency at the plate would make any defensive deficiencies tolerable to a team desperate for a permanent solution at first base. Now 28, the clock is ticking for Duda in New York, a more nimble and athletic physique is a step in the right direction.
"Who is this Matt Clark guy?"
Amongst the non-roster invitees this year is first baseman/outfielder Matt Clark.  The six foot five, career minor leaguer has shown consistent power throughout his career albeit off the major league stage.  Last year in Japan with the Chunichi Dragons, Clark hit 25 HR and 70 RBIs in 132 games while batting .238.  The previous four seasons in the Padres organization, the last two coming at Triple A Tucson, Clark hit 97 HR.  Even from his days at LSU, before being drafted, Clark has been a consistent power bat and run producer.  He may not be a major league caliber contributor, at least as a starting player, but you can count on seeing a few long balls this spring.  Clark is a big man with big power and will be sure to deposit some souvenirs on the berm at Tradition Field that will open up some eyes.
"Why do they always play the same teams?"
Due to Port St. Lucie's proximity within the scope of the Grapefruit League, Mets are cornered into playing many of the same opponents throughout their schedule.  The Mets, split-squad games included, play 31 exhibition games in Florida.   The Marlins, Cardinals, and Nationals will be their opponents in 17 of those 31 games, mainly because they are the only teams within an hour or so away.  Most of the Grapefruit league resides on the western gulf coast of Florida, which is at least a two and a half hour drive, and those teams schedule almost all of their games amongst each other.  The Mets will make a few trips out of southeastern Florida, but count on being bored of your "friendly" division rivals come Opening Day March 31, when they open up at Citi Field against, you guessed it…. the Nationals.