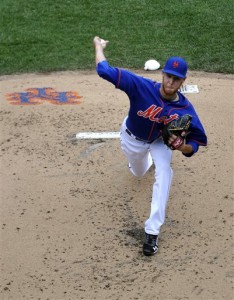 It has been a hot topic as of late. Who is going to start for the New York Mets on opening day?
Three names have been thrown around: Jon Niese, Bartolo Colon and Zack Wheeler. Niese, who has started opening day for the Mets in the past, hasn't gotten off to a great start. He still has yet to throw in a spring training game as a shoulder injury has kept him sidelined.
Colon was brought in to fill in for Matt Harvey and bring in a veteran presence to the pitching staff. What better way for this veteran to lead than to go out there on opening day and prove him doubters wrong, again.
Then there is the curious case of Zack Wheeler. Wheeler, who looked good in his last spring training outing, has said that he wants to take the ball on opening day.
All three are very good options, but which one should Terry Collins hand the ball to?
Well there is a big if behind my answer. If all three are healthy, then that guy should be Jon Niese. Not only has Niese been around longer, but he also has experience opening the season for the Mets. Colon is still getting adjusted to a new team and pressure shouldn't be added on him to be "the guy" on opening day. Wheeler is also still young and developing, so slotting him behind both of the guys above can only help his growth. For those of you that think it should be Wheeler, remember that Matt Harvey did not start opening day last year. That responsibility was given to my pick, Jon Niese.
Now it seems that Niese and Colon are going to be the final two battling for the spot, as Wheeler still is working on finding his big league game.  Either one is a quality option for the Mets to go with when the open up against the Nationals on March 31st.
But as always, injuries need to be taken into consideration. Niese's shoulder/tricep injury is something to keep in mind as he continues to work toward being ready for the season, as should Colon's calf injury that has kept him out of action at points during the spring.
Opening day is in 26 days. This allows for 26 more days of articles like this being written, and no answer to the question being posed. If health prevails, then Jon Niese should be on the rubber come March 31st. But, as always with the Mets, that's a big if.