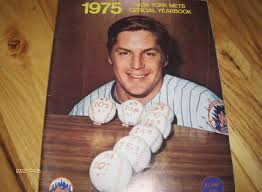 There was the Miracle of 1969. There was its even more unlikely cousin, the "Ya Gotta Believe" pennant of 1973, which saw a second championship fall short – just when the Mets were poised to take it — due to un-robust hitting and some managerial malpractice. What was lost on the management of the time — in the person of the execrable M. Donald Grant – was just how unlikely that NL Championship actually was, and so the Mets stood pat for 1974. A desultory 71-91 disaster followed, exemplified by Tom Seaver – Tom Seaver! – dropping to a .500 record. Mr. Grant wasn't about to have that again; he was spurred into action in the 1975 offseason.
So the rearranging of the Mets began. Farm Director Joe McDonald had replaced GM Bob Scheffing at season's end and almost immediately set about improving the offense. He swapped useful veteran lefty Ray Sadecki and perpetual prospect Tommy Moore to St. Louis for hometown hero and former MVP Joe Torre. Next, Duffy Dyer, Jerry Grote's fine safety net, was sent to Pittsburgh for smooth veteran outfielder Gene Clines. Scrappy infielder Ken Boswell was dispatched to Houston for another outfielder, Bob Gallagher. The flickers of '69 were beginning to dim, but it was starting to appear that the offense would far outstrip that of that giddy, opportunistic band. But McDonald wasn't finished. He saved his biggest move for the Winter Meetings that year: fan favorite and top closer Tug McGraw – along with outfielders Don Hahn and Dave Schneck – were bussed down the Turnpike to Philadelphia, in exchange for another lefty reliever Mac Scarce, rookie catcher John Stearns and outfielder Del Unser. And for good measure, McDonald brought aboard another outfielder, Dave Kingman, from San Francisco in a straight cash deal.
The Mets opened spring training so unrecognizable that they had to have a special page put in the yearbook. Bearing the caption "Pitching in and putting out," the photo featured the team's putative sluggers – Torre, Kingman, John Milner, Cleon Jones and Rusty Staub – backing up the kneeling three main cogs of the starting staff, Seaver, Jerry Koosman and Jon Matlack. Camp went along normally, until Torre turned an ankle at third base, shelving him for a good couple of weeks. Then Jones pulled up lame with a hamstring that proved so severely pulled that he was left behind when the team broke camp. That turned out to be quite a fateful pull. While still in Florida and awaiting clearance to join his mates in New York, Jones was found in the back of a van with a woman who was not his wife and arrested for indecent exposure. Rather than handle the matter quietly and internally, Grant forced Jones to publicly apologize at a press conference – with his wife in attendance. The incident served as the first sign that the Mets' organization just might not be as classy as they would have you believe.
It didn't help that on the field, the Mets were as inept as could be. After their now-traditional Opening Day win, they dropped five straight to the Phillies, Pirates and Cardinals – their three main offseason trading partners. The problem all season was trying to find consistency offensively. As usual, the top three pitchers weren't the problem – Seaver bounced back to win his third Cy Young Award and Koosman and Matlack combined for a 3.9 bWAR. Matlack was even the co-MVP of the All-Star Game. The problem lay in the bullpen, at the back end of the rotation, with the offense and with the chemistry in the clubhouse.
First of all, Mac Scarce quickly proved he was not any kind of replacement for McGraw and the team cast about for a reliable rally-stopper before settling on third-year man Bob Apodaca to fill that role. Apodaca acquitted himself well, posting a 3.1 bWAR on his own and notching 13 saves, but it was too late. Reliable fourth and fifth starters were also hard to come by, with manager Yogi Berra trying Randy Tate, Hank Webb, a shopworn George Stone, Tom Hall and a not-yet-ready Craig Swan in those roles. These five combined for a bWAR of -2.4. As for the offense, Staub set a team record – to date — with 105 RBI. Kingman cracked 36 homeruns, also a record for the time. Unser got on base 34% of the time and Felix Millan set another record with 191 hits.
In terms of the chemistry, this team was in turmoil ever since the St. Petersburg police knocked on that van door. Jones rejoined the team – to play baseball — at the end of May and played 21 desultory games, sealing his fate when he refused Berra's order to pinch-hit in a late-July game. He was released immediately thereafter and Berra was soon to follow, replaced by Roy McMillan on August 5. The final record of 82-80 was one game shy of their Pythagorean projection.
This season was the one that had most of New York turn its eyes to the good things brewing in the Bronx. But for the all-too-brief respite from 1984-1990, the City hasn't looked back.
Follow me on Twitter @CharlieHangley