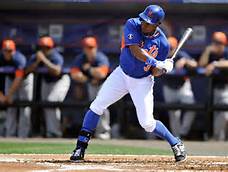 Poking around the Met-verse and reading articles this offseason, you may not have noticed the Mets largest offseason acquisition.  Here at Mets360 we last saw Curtis Granderson focused on in early January.  Is this fair?  No.  It's the difference between how the media focuses on the Mets and other teams in baseball.  Do writers focus on Granderson's positive impact on the Met lineup, or do we hash and re-hash the ongoing frustration with Ruben Tejada, Ike Davis and Lucas Duda?  Perhaps it's because we'd prefer to ignore what we'd rather not see.  What's been going on?
The answer is, not so great.  His numbers this spring are lower than they've ever been before.  His strikeouts are up and his hits and walks are down.  Let's remember, it's spring training, spring training stats don't mean everything.  Anyone remember these spring training stats?
53 AB / .340 BA / .444 OBP / .679 SLG / 4 HR
Where did we see those numbers before?  For those who've mentally blocked his Met career from their minds, that was Jason Bay's spring training line from 2010.  This doesn't prove anything, it gives Met fans an excuse to discount Granderson's numbers and sleep at night, but perhaps they shouldn't.
Tejada, Davis and Duda's relative success or failure doesn't amount to anything if Granderson doesn't produce results with his $15 million contract.  We are assuming that Granderson can provide Marlon Byrd's 2013 production or more, but we've yet to see anything in 2014 to make us believe we'll see it.  He'll get his shot at giving us something good to talk about but while the blog-o-sphere has given him a free pass (by not focusing on him) this spring, expect that pass to be quickly revoked if we don't see positive signs by June.
Let's all hope this is the last time anyone at Mets360 will be forced to relate Granderson to Bay.