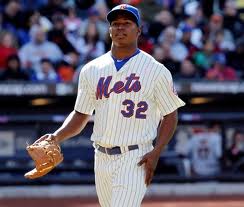 With opening day mere hours away, the Mets finally named their fifth starting pitcher yesterday. The competition for the fifth spot in the rotation started out wide open, even including top prospects Noah Syndergaard and Raphael Montero. Realistically, though, the true competition came down to top prospect Jenrry Mejia and recently re-signed Daisuke Matsuzaka. Most observers would have pegged Matsuzaka as the odds-on favorite out of the gate, if for no other reason than Mets' manager Terry Collins' tendency to give the edge to veterans.
To the surprise of many, including a "shocked" Matsuzaka, the team selected Mejia to fill in the back end of the rotation while sending Matsuzaka to Las Vegas. That's welcome news for those who were rooting for Mejia to win the job, but there's more to the decision than many may realize. The Mets were simply hedging their bets on this one.
Jonathon Niese is going to open the season on the DL because of his elbow but is scheduled to make his first start of the season on April 6th against the Cincinnati Reds. The expectation is that he will be able to make this start, but there's still a chance he has a setback. If the Mets had instead optioned Mejia to Las Vegas and Niese couldn't make that start, the team would not have been able to use Mejia to fill in because he would need to spend at least 10 days in the minors before he could be recalled. The same restriction does not apply to Matsuzaka because he is on a minor league contract and not on the 40-man roster.
Long story short, this decision allows the Mets to have both Mejia and Matsuzaka in the rotation in the event Niese cannot make his projected start. As ESPN's Adam Rubin simply explained it on Twitter: "They can go from Mejia to Dice-K or Niese to Dice-K. They cannot go from Niese to Mejia." This was most likely simple roster manipulation.
There's a good chance that Mejia only makes one start before being optioned and replaced with Matsuzaka, decimating the good will this decision has generated with fans who believe the organization made the right one. That remains to be seen, of course, but history tells us that the team will likely go with the veteran until it is painfully obvious they shouldn't have. It would be a surprise if the team didn't make that decision, actually.
That would leave Mejia, Montero, Syndergaard, and Jacob DeGrom waiting in Las Vegas to move up when the inevitable injury occurs in the rotation. It's the type of pitching depth this team hasn't had for quite some time and a very good "problem" to have.