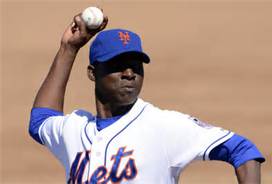 The Mets have quite the collection of starting pitchers.  There is not much that anyone could complain about in the Las Vegas starting rotation, but it seems that Rafael Montero deserves additional praise.  Through his first three starts, he's been the picture of an "Ace".
What Makes an "Ace"?
A Low ERA – Montero's ERA is 2.60 after 17.1 IP
A Low WHIP – Montero's WHIP is a crisp 0.87
A High K/9 – Montero's K/9 is over 9.0
Could Montero be an "Ace"?
The question isn't, "Has Rafael Montero been an Ace for Las Vegas this season?" it is, "Can he be an Ace for the Mets as we move into the future?"
If you asked me before Spring Training began, I'd have told you no.  In part, it's because I'm a callous blogger and I can't imagine the Mets with quite the embarrassment of riches that would imply.  To have Matt Harvey, Zack Wheeler, Noah Syndergaard and Montero would be a historically improbable coup.
Now?
The sample size is dangerously small, but the trend is very hopeful.  If you look at Montero's minor league trends he's on course for his small sample of results to ring true.  This is particularly hopeful because it would mean that Montero's numbers would be in line to make him a #2 pitcher, or even an Ace.
AAA:
Chris Young looks good in rehab – He was 5 for 5 with a pair of home runs in his only rehab start.  That's fairly silly.
AAA hitters showing patience – Bobby Abreu, Eric Campbell, Zach Lutz and Allan Dykstra are all off to quality starts, but they and others are really making pitchers work and getting on base.
Daisuke Matsuzaka deserves a promotion – If and when a pitcher is needed people will scream for Montero but Matsuzaka Has been very good in his two starts.
Jacob deGrom off to a great start – His numbers are as good or better than Montero's but his sample size is smaller.  Keep reading and hopefully we can give him a full write-up next week.
Wilmer Flores and Matt den Dekker are off to slow starts – Don't lose faith, these guys have simply not caught fire to start the year.
AA:
Darrell Ceciliani makes us wonder once more – There was a brief time where Ceciliani set the world afire with a season in Brooklyn back in 2010.  He's off to a great start in 2014, but I wouldn't get your hopes up too soon.  Let's hope he continues to swing a good bat.
Journeyman Matt Clark is hitting a ton – He's not a prospect but he's certainly earning his keep for the Binghamton squad.
Rainy Lara, Darin Gorski and Hansel Robles pitching strong – Robles has the best numbers but the trio is off to a fine start.
AA Bullpen looking healthy – One of the few cases where a Met bullpen looks like a strength.
Jack Leathersich is getting his act together – His strikeouts are still super high, and he's working hard to counter April 6th start.
A+:
Brandon Nimmo starting strong – All systems are go but he's striking out over once a game.  He's walking a lot, which counteracts this, but it's worth showing caution.
Steven Matz, Gabriel Ynoa, Michael Fulmer and Domingo Tapia are still pitchers to watch – Matz has had the best start but all four pitchers are worth watching.
A:
Stefan Sabol is leading the way – There are a number of strong hitting performances to start the year, but Sabol's is perhaps the strongest.
Jared King is the king of walks – That's 1 each game and two times the number of times he's struck out.
Akeel Morris has embraced his relief role – 6.2 IP, 14 K, 0.60 WHIP and a 0.00 ERA.  He's been pretty perfect.