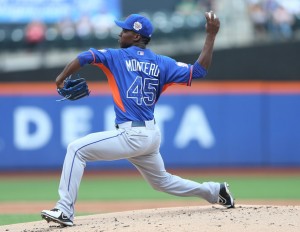 John Harper of the Daily News had an interesting proposition for the New York Mets the other day in his column, which you can read here, and that was exploring the idea of putting guys like Rafael Montero and Jacob deGrom in the bullpen given the current anemic state of the relief corps.
As it is right now, the Mets are playing with fire every time they rely on the bullpen late in games while leaning on retreads like Jose Valverde and Kyle Farnsworth. (Anyone see how the Mets had to sweat it out last night with an amazing tag at the plate by Travis d'Arnaud?). It's gotten so bad that the Mets are relying on a veteran, who has been a starter all his career, in Daisuke Matsuzaka to pitch in important innings late.
Maybe the Mets could use an injection of youth in the bullpen after all.
As Harper points out, it's the same approach that pitching-rich clubs like the Braves and, in particular, the Cardinals have took and maybe the Mets should take a page out of the same book.
Now, no one is saying that Montero and deGrom should be groomed to be future relievers, but if the Braves and Cardinals have told us anything, it is that this experiment works. Just look at what it did for guys like Alex Wood and Kris Medlen (injury notwithstanding) for the Braves and Adam Wainwright, Michael Wacha, Lance Lynn, etc. for the Cardinals.
When you're getting late into games, you want guys who can throw hard and that is where Montero and deGrom can help out. This way, you kill two birds with one stone. First, you have them get acclimated to the majors in relief and use their talents to fortify a major weakness in the process. Then come the next year, you can stretch them out in the spring and have them ready to be part of the staff if you want.
The one person, though, the Mets should avoid in regards to this plan, should be Noah Syndergaard, as Harper also points out. He is certainly an ace in the making and he will no doubt be a part of the rotation for years to come. So, obviously, there is no need to tinker with those plans.
With a bullpen full of veterans on their last leg, well, that certainly doesn't look like a sustainable plan.  The Mets, for all their warts, are not doing a bad job this year and are keeping their heads above water. If they can strengthen their bullpen this way, it could go a long way in making the team a much stronger unit and make the season an exciting one.
Again, no one is suggesting that all pitchers should be treated this way, as this would only be a one-year experiment. See how it works. Considering how long it took Jenrry Mejia to come back to form after constantly being jettisoned back and forth from the staff to the bullpen, well, it's natural to be be skeptical.
Simply put, though, if you want to utilize Montero and deGrom in 2014, this may be the only way to go. If the Mets' starters stay healthy (and you can include Matsuzaka for this exercise) and you want to bring up Syndergaard eventually, too, what role can Montero and deGrom have with the big club this year otherwise?
The intention should be to inject some youth and energy to the relief corps and give the Mets the best bullpen it can possibly assemble. Bring up Vic Black and Jack Leathersich while we're at it.
You have to admit, it's a tantalizing idea.
Follow me on Twitter @Stacdemon