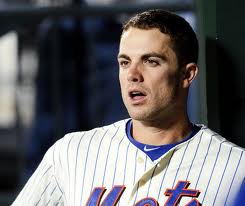 The 2014 Mets sit at 13-11; a welcome surprise to start a season that's probably more important than anyone associated with the team is willing to admit. Still, the driving factor behind the team's early success has been solid pitching. The hitting, on the other hand, has left much to be desired. The Mets' offense ranks dead last in the National League with a team batting average of just .218, near the bottom in OBP with .295, last in slugging, last in ISO, near the bottom in strikeout rate, and the list really just goes on from there. In fact, the only two regulars with an OPS+ above league average are Lucas Duda and Juan Lagares.
Curtis Granderson's performance and comparisons to Jason Bay are in full swing, Travis d'Arnaud's struggle to acclimate to major league pitching hasn't gone unnoticed, and Ruben Tejada has all but been written out of the picture at this point. The struggles of one prominent player haven't been discussed nearly as frequently, though.
David Wright's a star third baseman who's obviously earned the benefit of the doubt when it comes to being in the midst of a funk at the plate, but there are some aspects of his performance to this point that are a bit alarming. His average and OBP are far from horrible but clearly not up to his typical standards. More concerning are his strikeout rate, walk rate, ISO, and slugging percentage. His current walk rate of 6.4% is far worse than he's ever put up, even in his worst seasons. His strikeout rate, which seemed to peak during that weird stretch of 2009 to 2011 and returned to his career norms the last few seasons, is back up to almost 24%. His .051 ISO is astonishingly low, his slugging percentage is over 170 points lower than his career rate, and he's doing this with a relatively high BABIP.
Inspection of his swing rate as it relates to the strike zone reveals that he's swinging at more pitches on the inside half of the plate and less on the outside (as compared to his career tendencies). Perhaps unsurprisingly, Wright has frequently grounded out to the left side of the infield. Additionally, he has slightly elevated first pitch strike and swinging strike percentages. Note the distribution of ground balls in the FanGraphs spray chart below:
Source: FanGraphs
We obviously mustn't blow things out of proportion here. We're still firmly in small sample size territory, especially when it comes to an elite hitter like Wright. This is probably just your run-of-the-mill slump at the plate, though at over 100 plate appearances we can consider this a prolonged slump. Of the many problems the Mets have offensively at this point, Wright is probably the last one the team needs to be worried about. They can't afford to have Wright's slump to be too prolonged, however. The pitching will inevitably stumble, and a lineup with a productive Wright may mean to difference between a rough patch and a complete meltdown. The offense as a whole will need to stabilize if this team has any hope of pushing for a wild card berth. Although Wright can't do it alone, they can't do it without him.