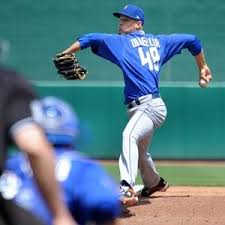 Zack Wheeler isn't having the best start to his season and some fans are panicking about his development at the big league level.
The biggest problem has been Wheeler's command. And that problem was on display last night against the Yankees.  He walked six batters over the course of his start and it took him 81 pitches to get through his first three innings of work.
This lack of control can be attributed to Wheeler's mechanics, as it was last year. After his call up last year, Wheeler had struggles with his command that led him to having short starts. His arm angle and release point contributed to his tipping of pitches.  But Wheeler is still young and learning.
Everyone is comparing Wheeler to Matt Harvey, which is magnifying his struggles even more. Because of Matt Harvey's fantastic start to his career, most Mets fans think the highly touted pitching prospects like Wheeler, Rafael Montero and Noah Syndergaard should have the same success. Matt Harvey is a once in a generation pitcher. These other guys can be great and be aces in the league, but they can't be Matt Harvey. They aren't Matt Harvey.
This is still Wheeler's first full season as a major league pitcher and he is still working on locking down his mechanics. The Mets don't need him to be Harvey; they need him to be Zack Wheeler.
Wheeler's goal for the rest of the season should be to lock down his motion; it's the key to his problem. His pitch arsenal is fantastic. He has four to five above average pitches that he can blow by any hitter. It's not his stuff that is the problem; it's his control that is.
The pressure is also a big part of the problem. There is a lot riding on the success of Zack Wheeler for the Mets. He feels that pressure and he might not be equipped to handle it or at least not yet.
Each of Wheeler's starts needs to be a building block. Building mental toughness is a huge part of success at the big league level and every start for Wheeler needs to do that.
Fans shouldn't panic about Wheeler. Not everyone can have success right away. If at the end of the season Wheeler is still struggling in this capacity that would be the time to panic.
Wheeler needs to work with Dan Warthen and the rest of the pitching staff. The best way to learn in this game is by watching others and asking questions. It would do wonders for Wheeler to buddy up with a pitcher and learn.
Zack Wheeler will be fine, he's gotten this far and has proven already that he has the pitches and the ability to be a good pitcher at this level. It's all about putting it together on a consistent level. When that happens, the rest of the league should watch out because the Mets will get better.