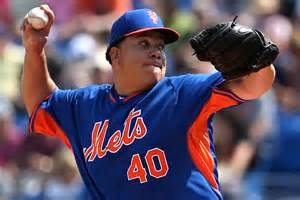 For many, the big story from Saturday was the return of Juan Lagares to the starting lineup and his key role in delivering the Mets' first win over the Nationals this season. Good for Lagares, especially with his homer. If he could add power to his game, that would be a wonderful thing.
But for me, the best, or perhaps more accurately the most interesting, thing was the performance turned in by Bartolo Colon. Lagares has a claim to be the most popular player on the Mets. Colon has a claim to be the most despised. Even after yesterday's gem, Colon sits with a 3-5 record and a 5.34 ERA, hardly the stuff imagined by the higher-ups when they signed him to a 2/$20 deal this offseason.
Most Mets fans wonder why – with his poor performance to date- Colon is not being considered for a trip to the bullpen once Dillon Gee returns from the DL. Jacob deGrom and Rafael Montero are the future and we all want the future to start now. Instead, one of them will be sent to the bullpen so that Colon can continue to start every five days.
Considering what he's delivered the past three years, Colon has been extremely inconsistent so far in 2014. But even given that, he's pitched better than his results. His FIP is over a full run better than his ERA and his xFIP is nearly a quarter of a run better than his FIP. If we go by xFIP, the only pitcher in the rotation with more than one start who is better than him is Jon Niese.
While Gee has had good luck so far this season, Colon's peripherals suggest a guy who has pitched much better than his results.
Even if we just look at results, Colon has tossed six Quality Starts in nine games. In those six games, Colon has a 2.57 ERA yet has only a 3-3 record. Research completed previously shows that pitchers have a winning percentage of .779 when they receive a decision in a Quality Start.
Here's how other non-rookie Mets SP have done this season when they hurl a QS:
Gee – 3-1
Jenrry Mejia – 2-0
Niese – 2-1
Zack Wheeler – 1-1
That quartet is 8-3 when they get a decision in a Quality Start, or nearly identical to the 8.6 wins that our research shows they should have. How different would the perception of Colon be among Mets fans if he was 5-1 when he threw a QS, like our numbers suggest he should be?
It's easy not to like Colon. In addition to being old and fat, he's new to the team and hasn't gotten off to a particularly good start. It's natural to see the money spent on him and wish that it was allocated to a shortstop, instead. And this is not a second-guess, either. Even at the time of his signing, many wondered why the Mets were sinking money into a pitcher rather than the offense.
My take at the time was that the Colon signing was a high-risk, high-reward move and my perception hasn't changed much after seeing the results over the first seven weeks of the deal. Colon has been good twice as often as he's been bad but when he's been off, it has been ugly.
So, what should we expect from him going forward? Do you expect more games like the one in Anaheim, where he allowed 9 ER in 4 IP? Or do you expect more games like the one in Washington, where he had 8 IP and 2 ER? My money is on more games like the one against the Nats.
On the other end of the coin – do you really want two rookies in your starting rotation? Both deGrom and Montero were impressive in their major league debuts. But if nothing else, the struggles of Wheeler remind us how awesome it was that Matt Harvey was able to come up and excel immediately. Not all rookie pitchers do that, however much we may wish otherwise.
My opinion is that it is a mistake to declare Wheeler nothing more than a back of the rotation guy, just like it's a mistake to assume that it will be clear sailing for deGrom and Montero. You have to display patience with young pitchers and sometimes (not always) the way to do that is by breaking them in via the bullpen if you have a reasonable alternative.
At this point in time, Colon is at least a reasonable alternative. The past three years indicate he has the potential to be so much more than that. While his past results should not guarantee him a spot in the rotation if the poor outings keep happening repeatedly, at this juncture there's not much point in putting him in the bullpen.
And if he strings three outings in a row together like Saturday, we can all breathe a little easier. That's why Colon's performance was the big story yesterday.
Editor's Note – This story has been updated since originally published to remove Wheeler from the lucky versus his xFIP category.