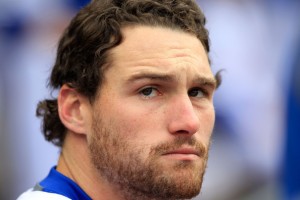 As of Friday morning, June 13th, the Mets are 29 and 37. The trade deadline is approaching and the Mets have two paths they can take. Over the past several years, they've chosen the path, at the deadline or in the offseason, of trading away veterans for prospects (with the exception of spending free agent dollars on Bartolo Colon, Curtis Granderson and Chris Young this past offseason). With the season going as it is, that appears to be the option they will take again (especially following reports today that they might trade Colon). The most obvious trade chip, outside of Colon, that they currently have is Daniel Murphy and there are teams in need of help at second base, specifically the Giants who currently have former Met Brandon Hicks manning the position and batting under .200. But there are other options out there for the Mets. The most notable rumored is Carlos Gonzalez.
Let's take a look at these two paths. Murphy should be signed to an extension. He's having a career year and is a key member of this team. David Wright might be the face of the franchise, but Murphy is the guts. He's not perfect and makes head scratching decisions sometimes, but he plays with every ounce of talent he has and gets better every single year. However, the Mets have players they could spot in at second base while a prospect like Dilson Herrera hopefully develops. Eric Young Jr. (when he returns from the disabled list), Wilmer Flores, Eric Campbell and Ruben Tejada can all play second base in the interim and some manner of that combination could probably hold the position for a few years if necessary. Wilfredo Tovar and Danny Muno are in the high minors as well. None of these players are currently as good as Murphy and none of them will replace Murphy's presence in the clubhouse, so, in the end, the Mets would be at a disadvantage if this kind of move went down. It would also be a sign to the fan base about how they continue to not be on the verge of competing. If they were, an extension makes the most sense. If they aren't, getting prospects for Murphy would be the route to go.
Gonzalez would be an entirely different road to travel. Gonzalez has his issues, most notably the fact that he's injury prone. He also doesn't walk all that often and strikes out a decent amount. But, he's a plus outfielder with power and can hit for average. He's in the prime of his career.  Even his contract isn't all that bad. Next year he's set to make 16 million dollars, meaning it would only increase the Mets payroll by about 8.75 million, since Young will not be under contract next year. After that, Gonzalez has two more years and 37 million dollars, taking him through his age 31 season. The Coors Field advantage is also slightly overblown with Gonzalez. Last season he had a better OPS on the road than at home and this year, the staggering difference in OPS is misleading. Gonzalez has more home runs on the road and only one less extra base hit. In fact, he has more total bases from extra base hits on the road than he  does at home (30 to 29), meaning that his OPS numbers are askew due to the difference in singles (seven more at home than on the road) and other factors, such as strike outs. Gonzalez has struck out at a 25% rate on the road as opposed to a 17% rate at home. Are we saying that Coors Field makes players strike out less and hit more singles? No way. The Coors Field issue is with extra base hits, which he's not showing a discernable difference in.
Basically, this is the guy the Mets need and there's no reason they can't get him. The Rockies have multiple young outfielders that are playing well this year. They always need pitching. In essence, it's a good match and a good time. Gonzalez is currently hurt, but nothing career threatening. He has a swollen finger that needs to heal, very different from some long term knee injury or shoulder issue. He can hit cleanup and would put the Mets order into a state of where it should be, with protection for Wright and the ability to hit Lucas Duda and Granderson outside of the fourth spot. This would also show a different message to the fans. The Mets might not be great this year, but they are working towards it for the next few years.
In the end, the Mets probably aren't going to deal for Gonzalez or add payroll. If they do anything, it'll be to trade a few veterans for prospects or hold tight and let the kids come up. If that's the choice, it's the wrong decision. Trading Colon for prospects makes sense, but that can be done in tandem with a deal for Gonzalez and an extension for Murphy. Sometimes you don't make trades for this year, but for the next few years and that's what this deal would be. An outfield of Gonzalez, Lagares and Granderson is intriguing for next year and with Matt Harvey's return and a possible move at shortstop, now we're talking about a potential contending club, or at least the 90 wins that the team proclaimed was an expectation for this season. If Murphy and Colon go and the team only gets prospects in return, then the Mets are going down a deep, dark path with very little light at the end of the tunnel. Gonzalez would bring some hope and it's time that the fans were given some of that.