First off, kudos to Anthony Recker on a three-run blast that essentially won the game for the Mets on Monday. Now onto why he needs to go.
It is a generally accepted idea that managers don't expect great things from their backup catchers. What they need is someone who can handle the defense and who knows the pitching staff. Offensive production is usually just icing on the cake. But every cake needs some icing, otherwise it's a muffin, and who wants that?
Recker has mostly been playing like a muffin. In short, he's providing nearly zero offense when he plays, and that is just not good enough to keep the job. To be fair his defense at times has been great, but outside of his three RBI home run in Monday's finale versus the Phillies, he's been a black hole in the lineup for most of the season, and something has to change.
There has been some musing through the comments section about Recker's struggles of late, but in case you aren't a regular reader of those, here's the scoop. Recker has had five starts since the All-Star break, has been on base once (Monday's HR), and has six strikeouts. For the year, Recker has a .187/.224/.324 line. The home run yesterday, his big offensive threat, last came on July 6th, and before that April 16th. His strikeout rate stands at 31.7%, and his walk rate at 4.1% Those are muffin numbers, folks.
Meanwhile, Kevin Plawecki is getting it done in the minors. Yes, yes, the minors aren't the majors. However, he is improving as a player at every level, and that's what prospects do to earn a job. In Double-A Plawecki hit .326/.378/.487 in 58 games, with six homers and 43 RBI. At Triple-A, he currently has a .238/.319/.405 line. Not fantastic, but more importantly than those numbers is the fact that his K% actually went down from 10.8% to 9.6%, and his BB% went up from 6.4% to 9.6% since being called up to Las Vegas. Granted, it's been only 26 games as of the writing of this article, but those are encouraging and sustainable numbers.
Bleacher Report did a nice piece about Noah Syndergaard and Plawecki for the Futures Game just a few weeks ago. In that article, they wrote,
"Plawecki should hit for a high batting average, but he would be much more valuable if he worked deeper counts and sacrificed his contact rate for a higher
on-base percentage. Because he is so great at making contact, he often does so early in the count to avoid falling behind and striking out. If he laid off pitches he couldn't drive, his OBP would rise and so would his offensive value."
To this writer, that sounds like Plawecki could use a dose of Lucas Duda mojo. Duda was known as an on-base machine until he started being more aggressive at the plate this year. When he did, the power we Mets fans heard about so often was finally on display. He's now driving the balls he can hit, out of the ballpark. Plawecki essentially needs to do that too, but by cutting down on slapping the ball around the yard. According to Plawecki's spray chart from MLBfarm.com: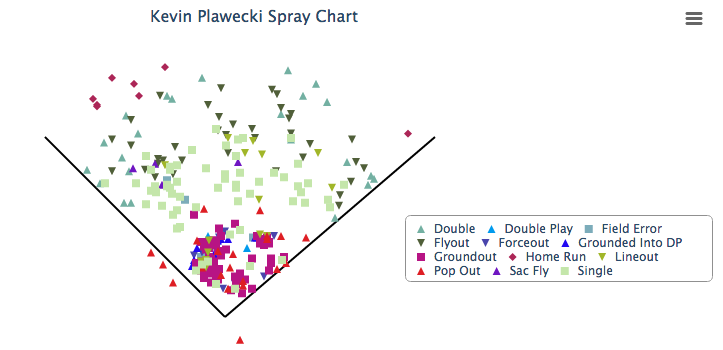 He's a pull hitter when it comes to power, but he can put the ball in play just about everywhere on the field. This makes Plawecki a perfect candidate to be a backup catcher, because his natural instinct is to put the ball in play rather than take huge hacks that result in strikeouts. If he can refine that swing to aim for more pitches he can drive into the outfield, then he might even put some pressure on Travis d'Arnaud for the starting role. Either way, he's the better option to play every few days behind the plate than Recker is at this point.
The knock on Plawecki is that his defense is far from superb. That same BR article stated his throwing arm is not great. However, if he can hit enough to compensate, not many will care. Ultimately Plawecki might be traded in order to bring in a shortstop or left fielder. Right now though, he has earned his playing time in the show. The Mets are starting to give their prospects more playing time at the highest level. Sandy Alderson might want to let Plawecki season a bit more at Triple-A, but sooner or later he deserves that call-up.
Now I just hope Recker doesn't beat me up over that muffin remark.